The Burger 180' Motor Yacht
The Burger 180 Motor Yacht, currently under construction, is an exciting example of Burger's continuing creativity and features expansive interior and exterior spaces for its owner and guests, while its mechanical features are intended to make the cruising experience even more comfortable. In addition, the yacht has been designed for full handicapped accessibility, including its large elevator, providing all guests easy access to each of its four decks.
Boarding the yacht from the stern mounted passerelle, guests are greeted on the expansive aft deck. This area provides direct access to the Main Salon, Tender Bay, and via a circular stairway, the aft Bridge Deck. Additionally, easy access to the swim platform is provided via the Tender Bay.
Designed for Adventure
Every Burger is a one-of-a-kind masterpiece tailored to the owner's specific vision.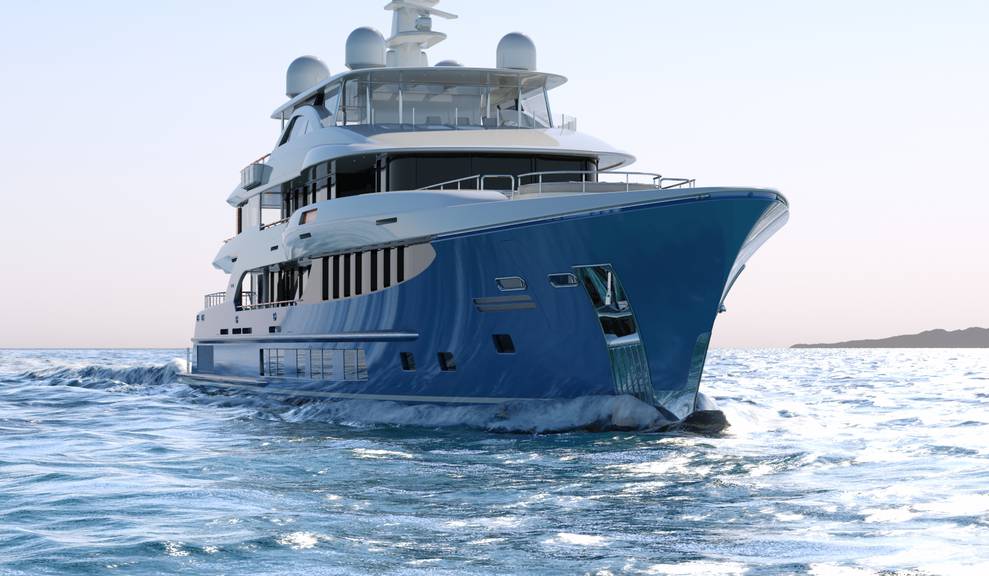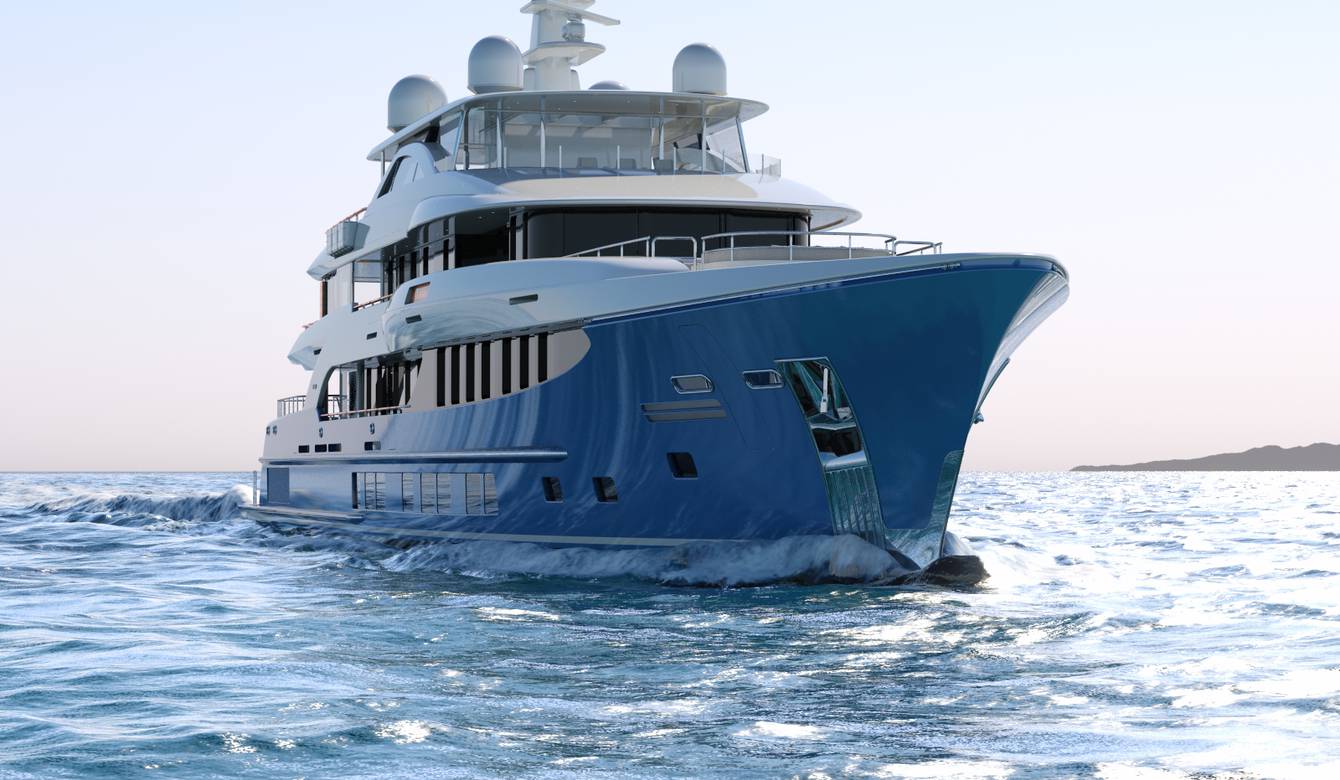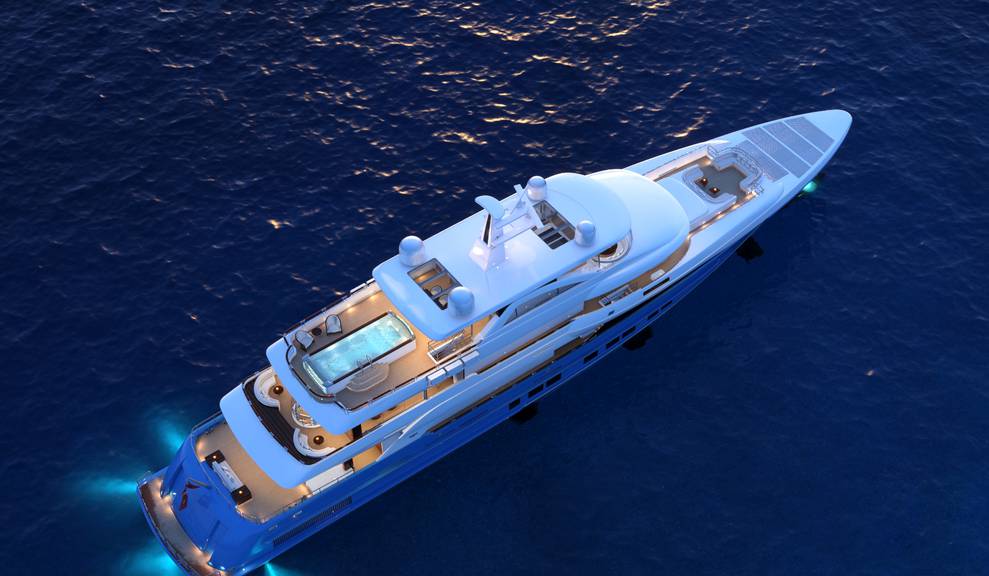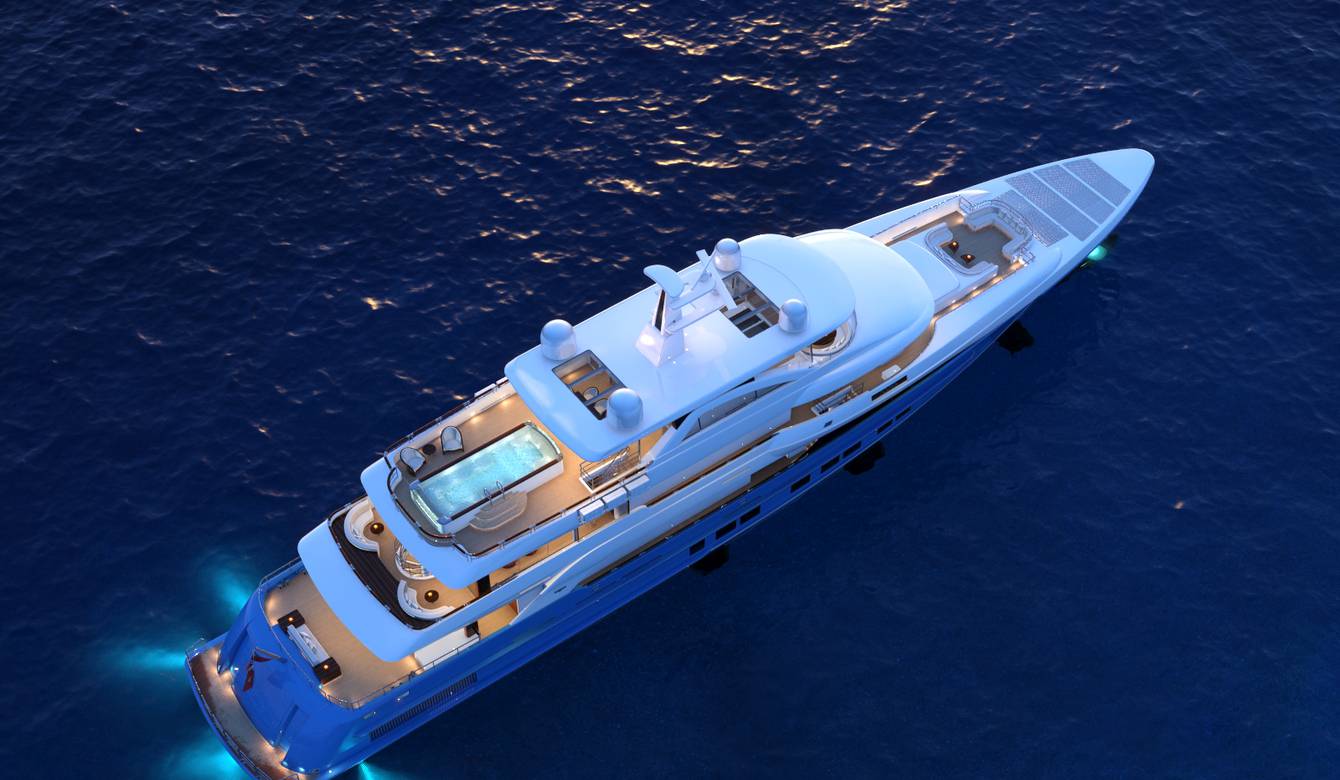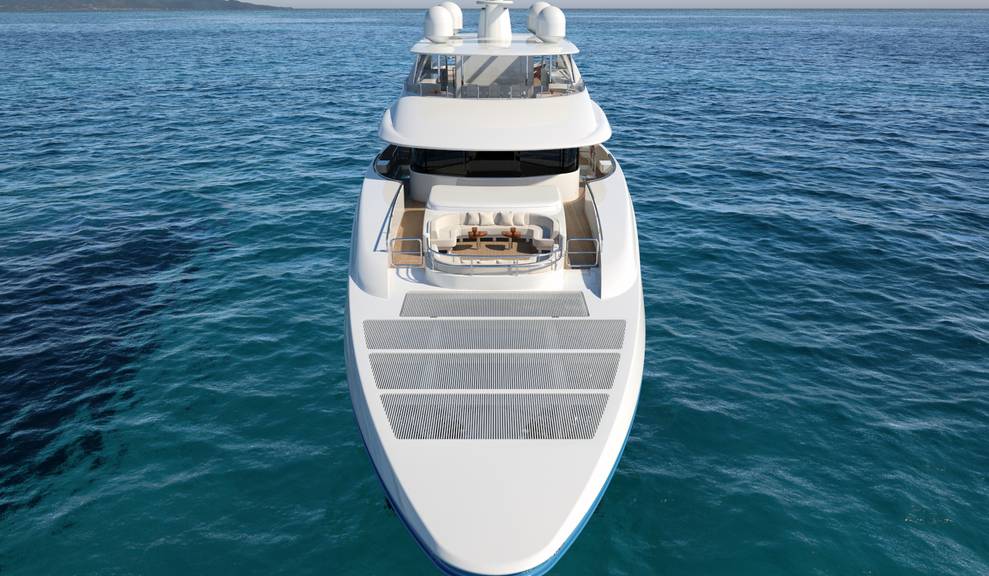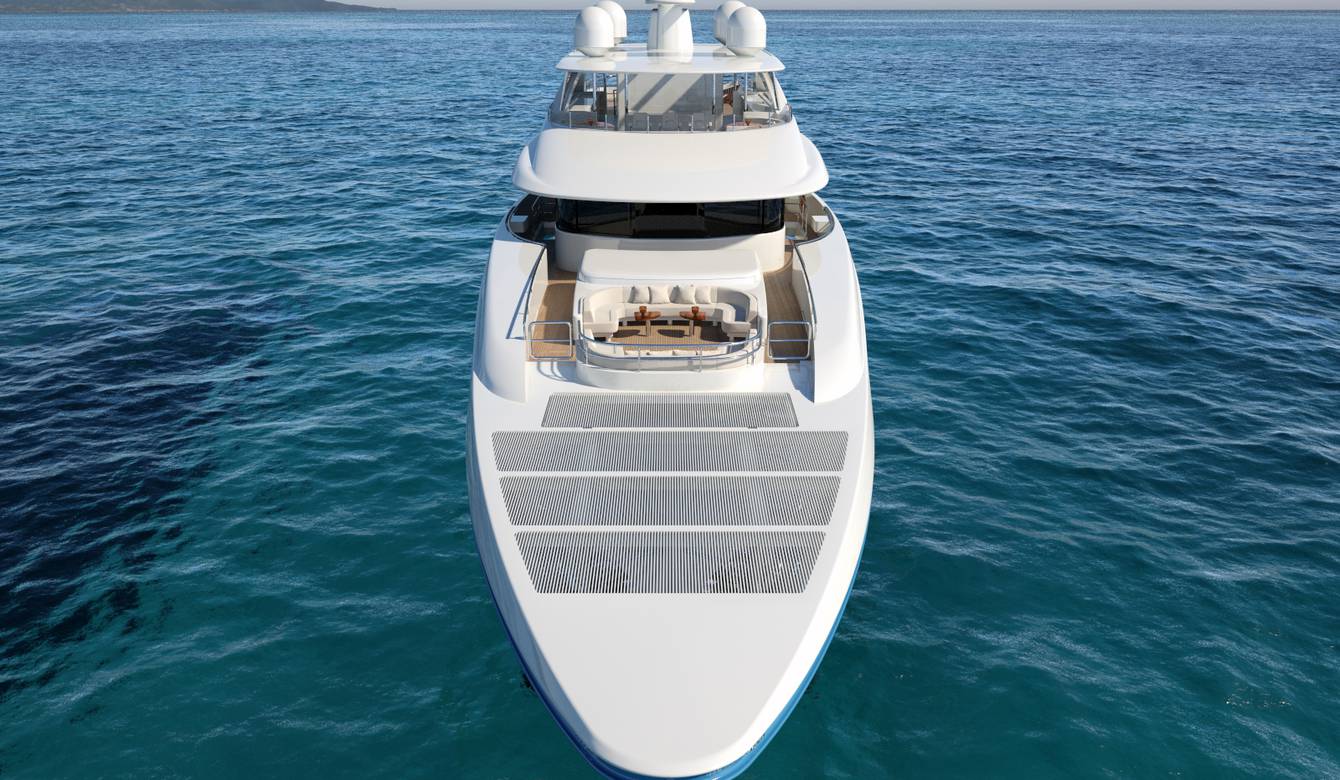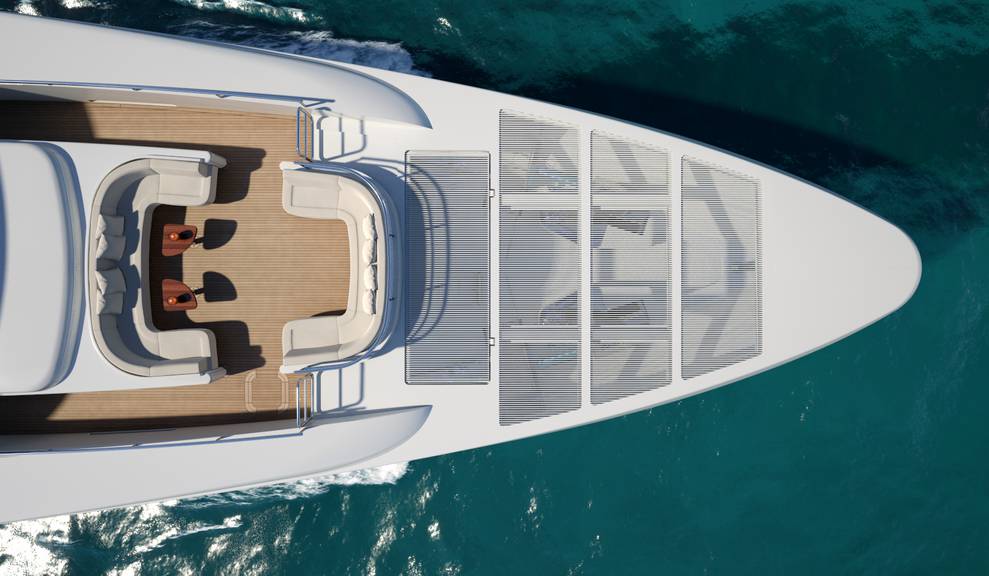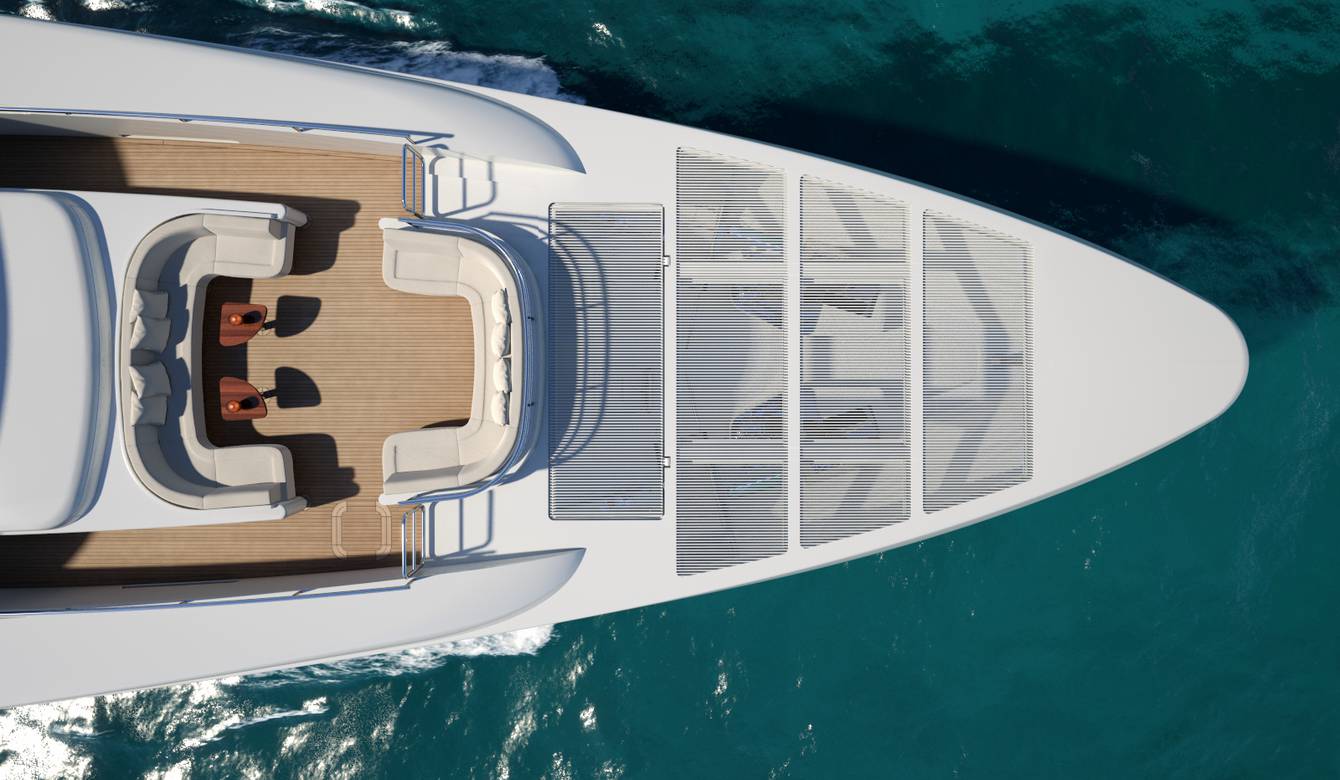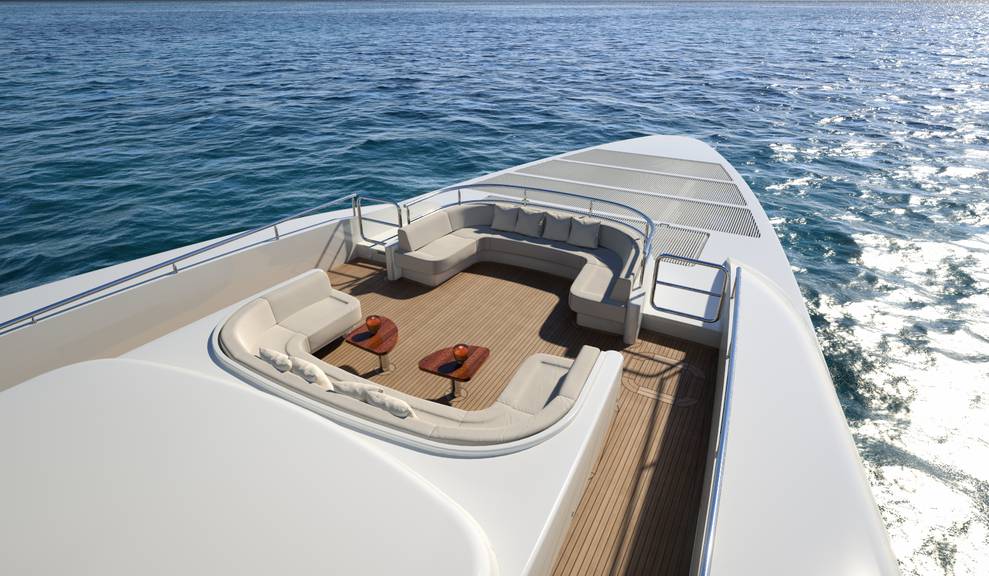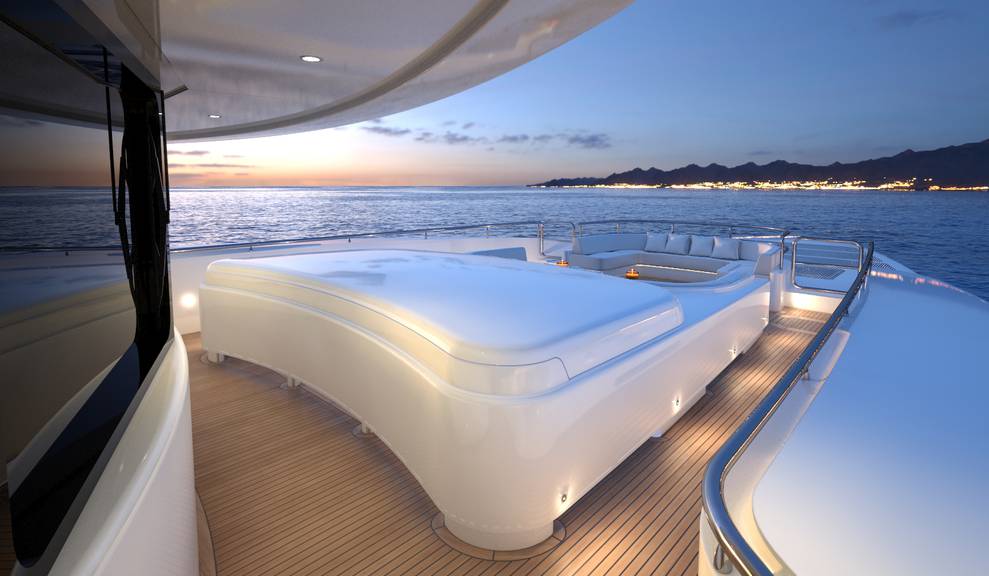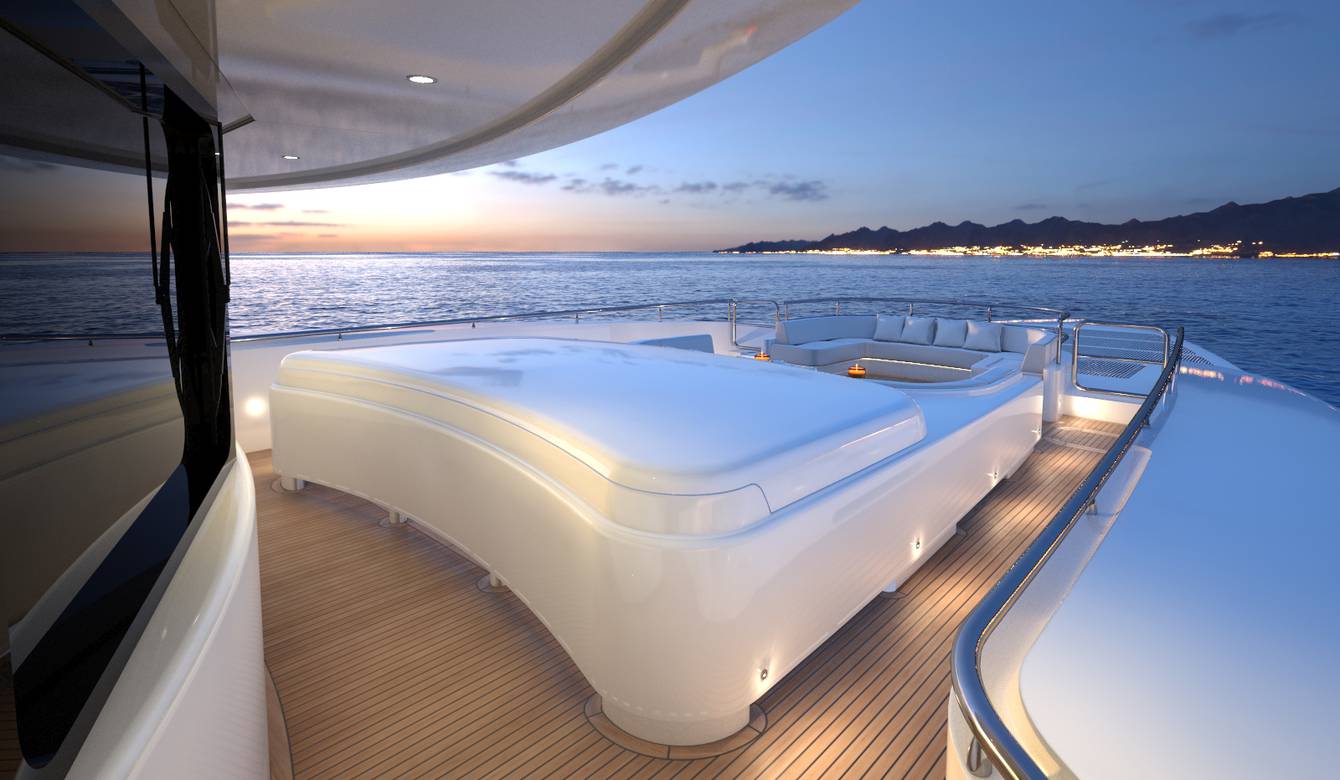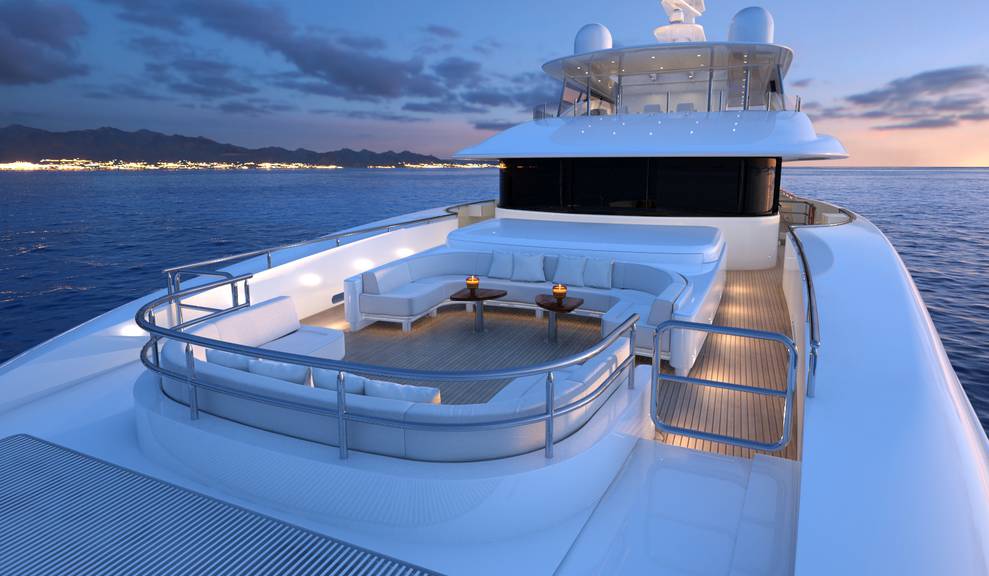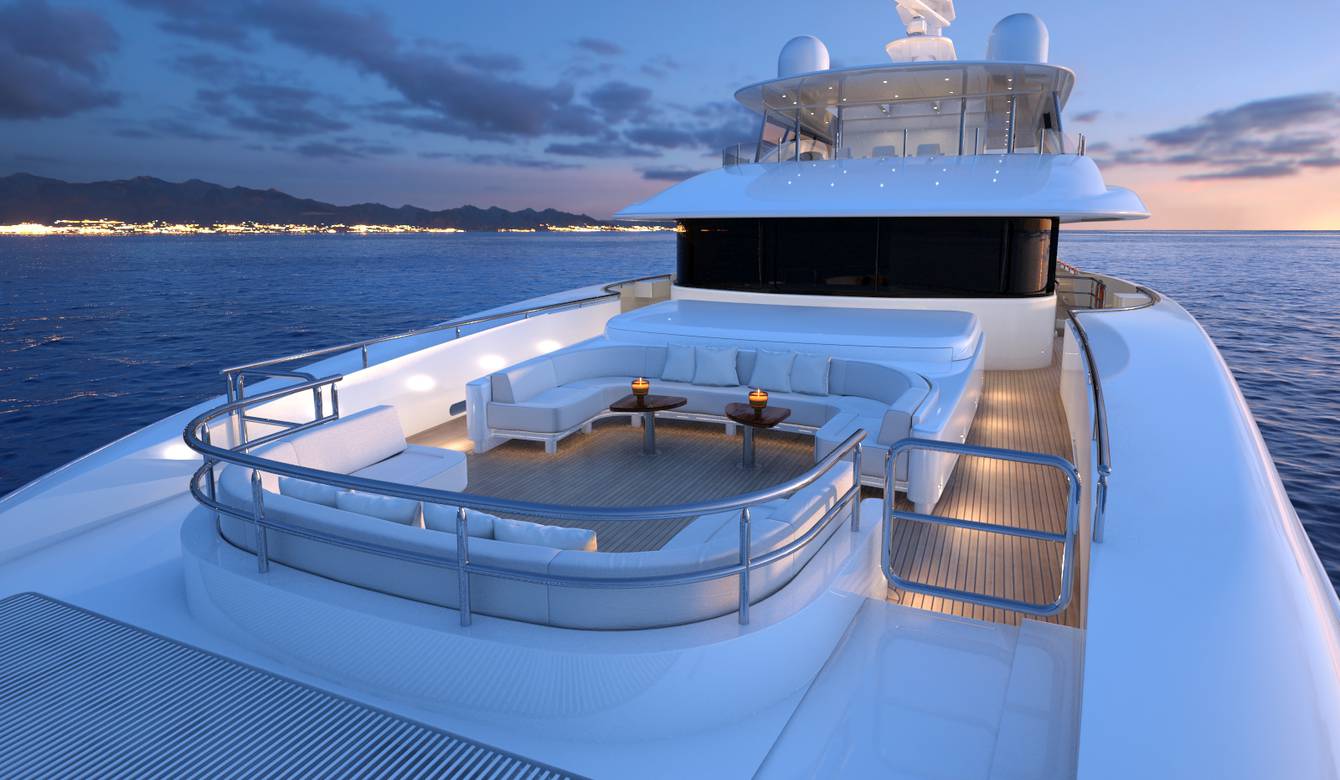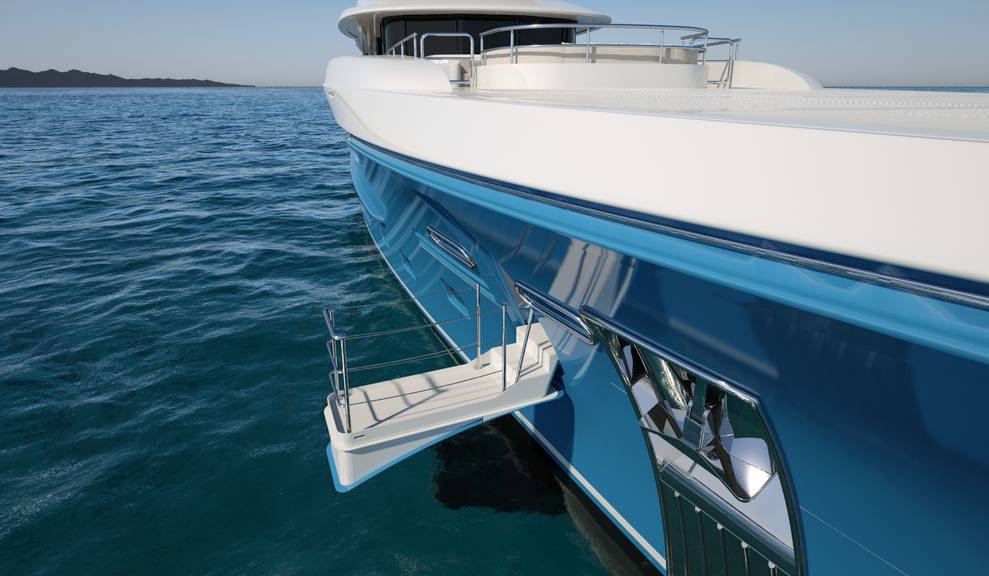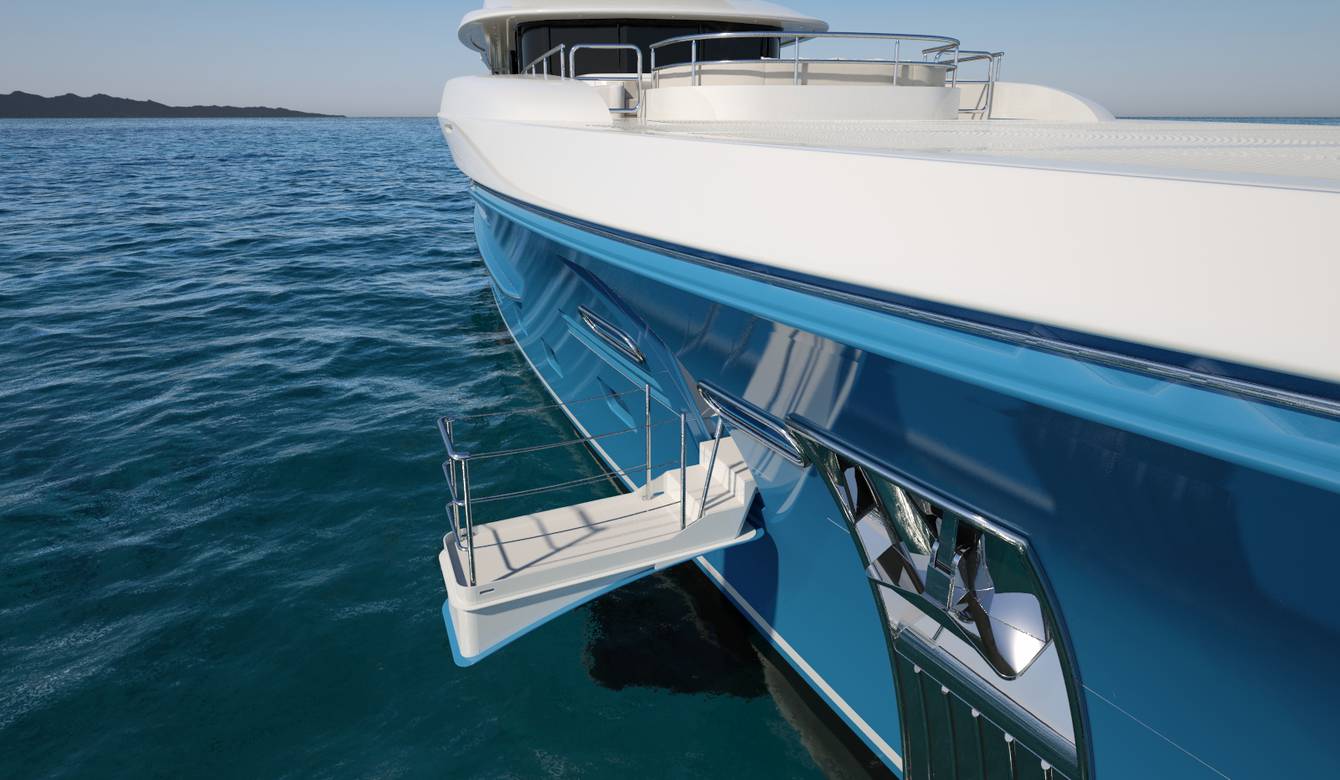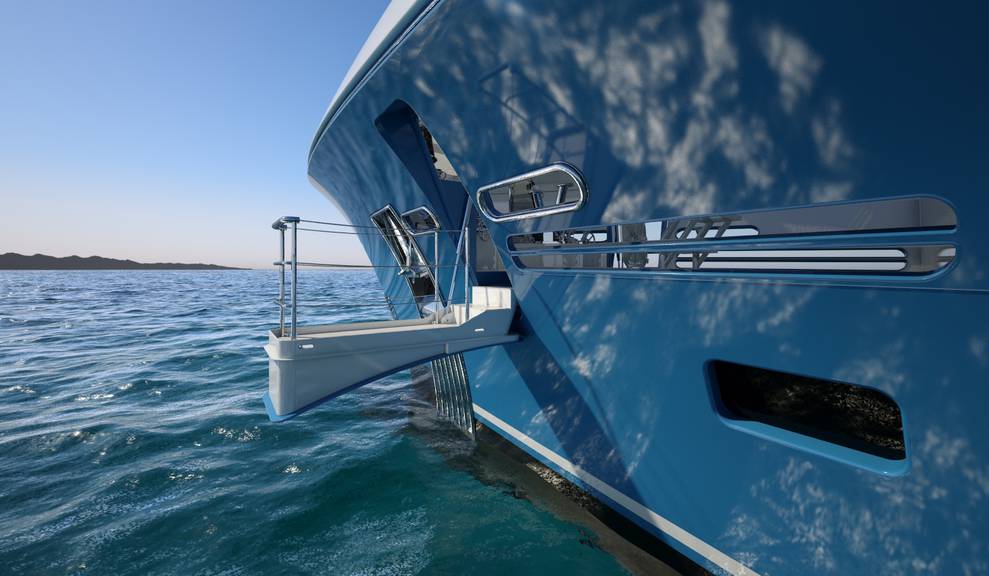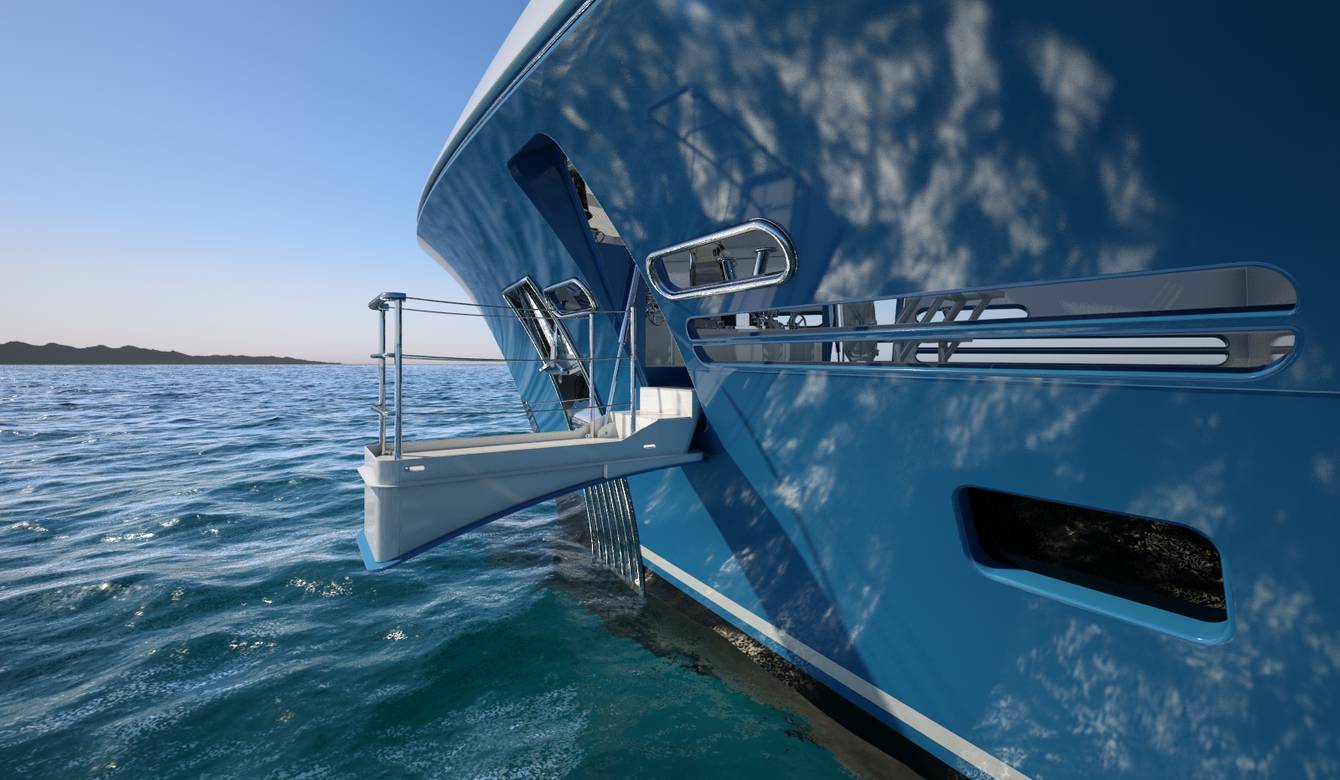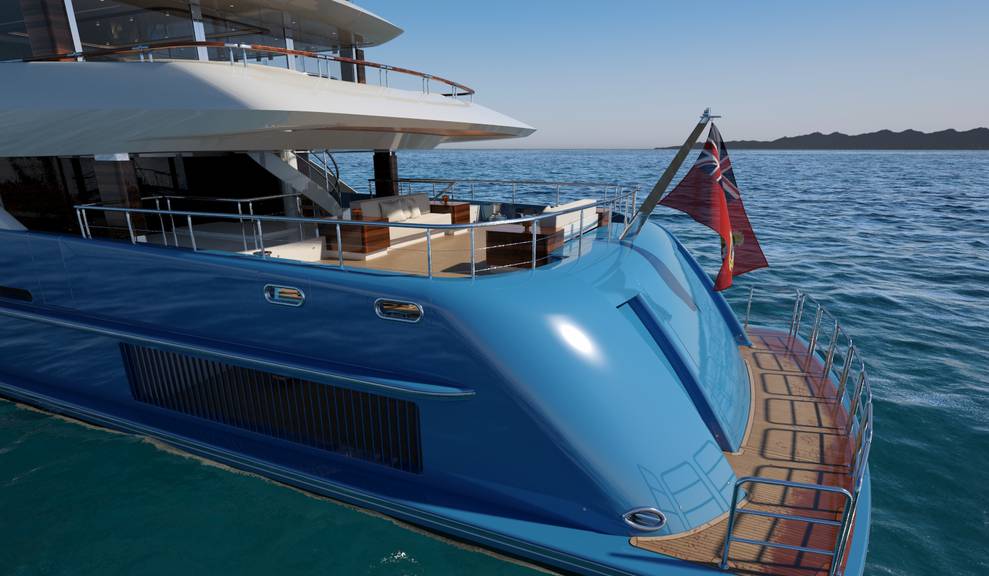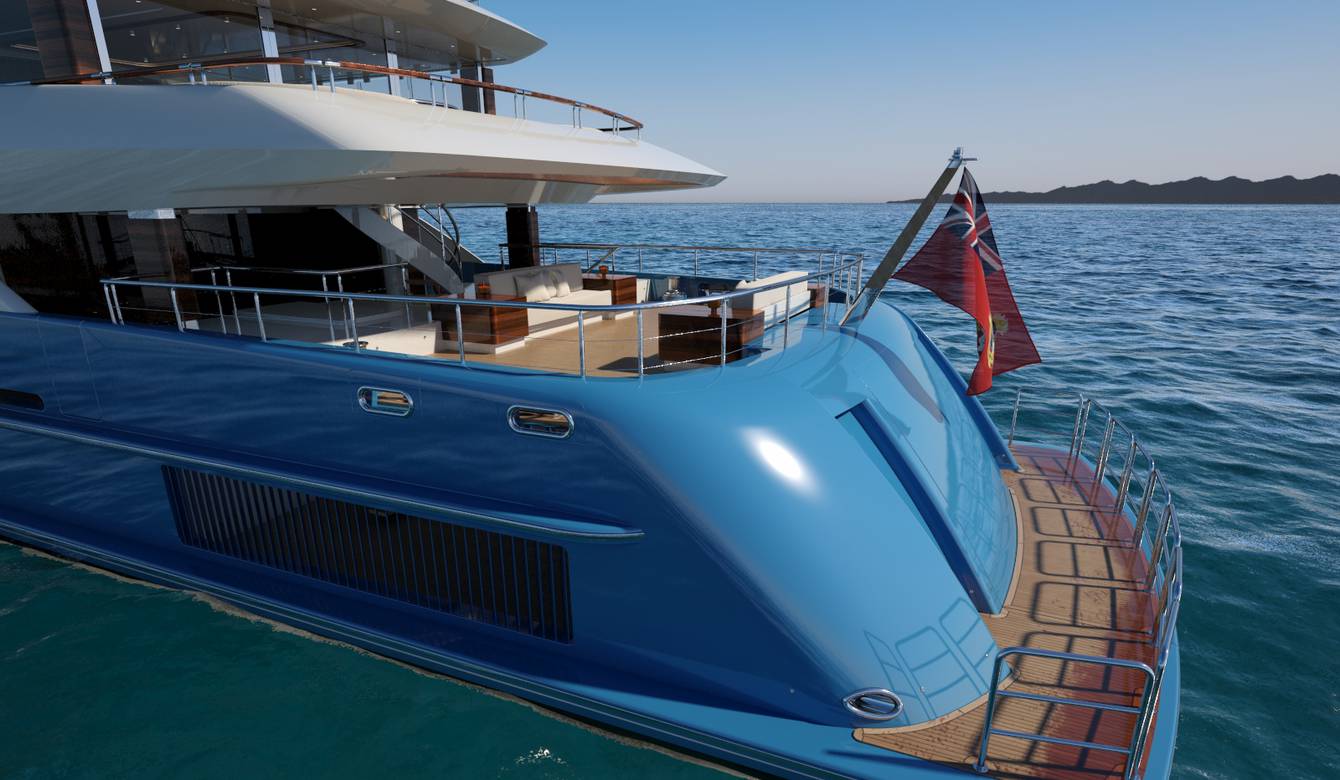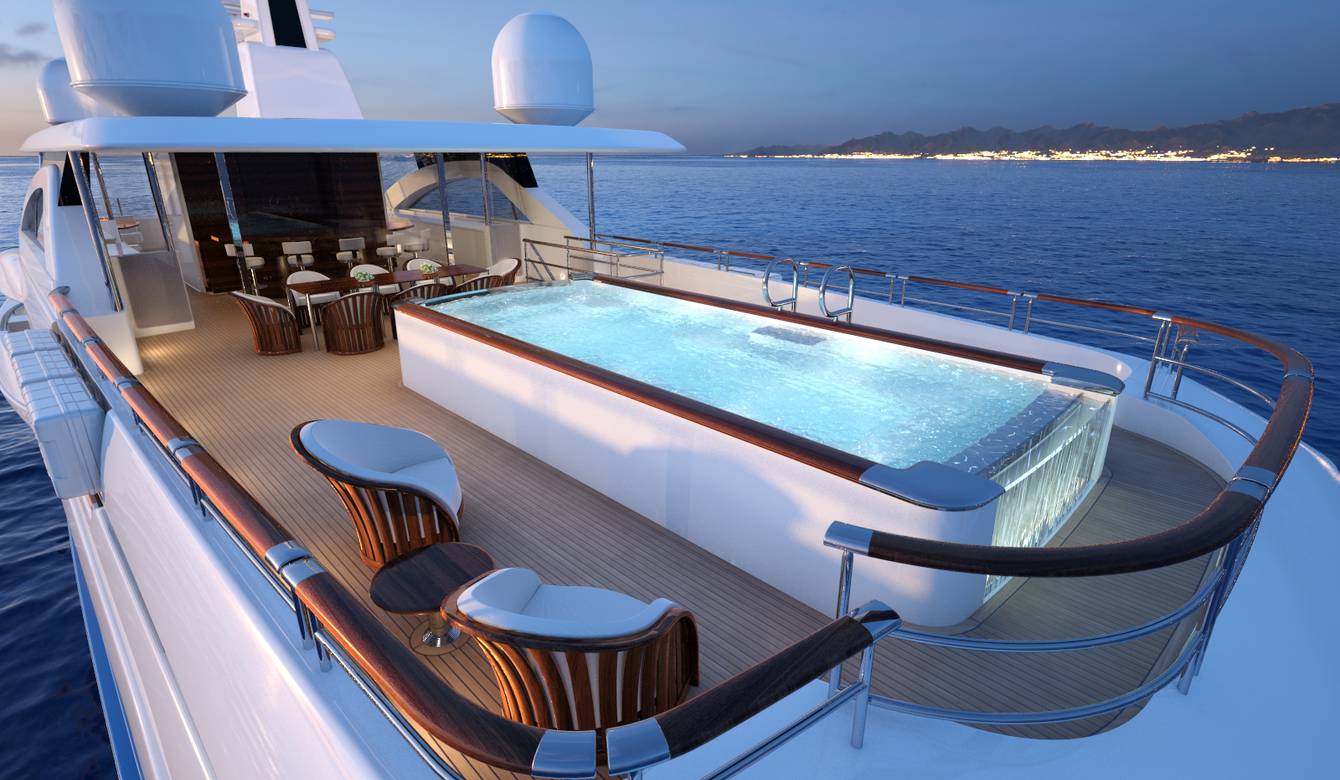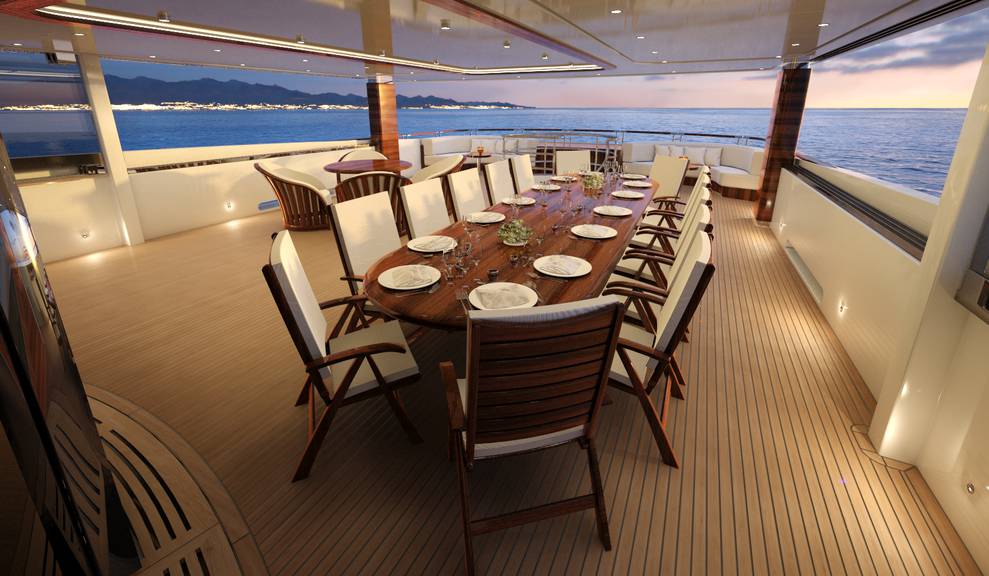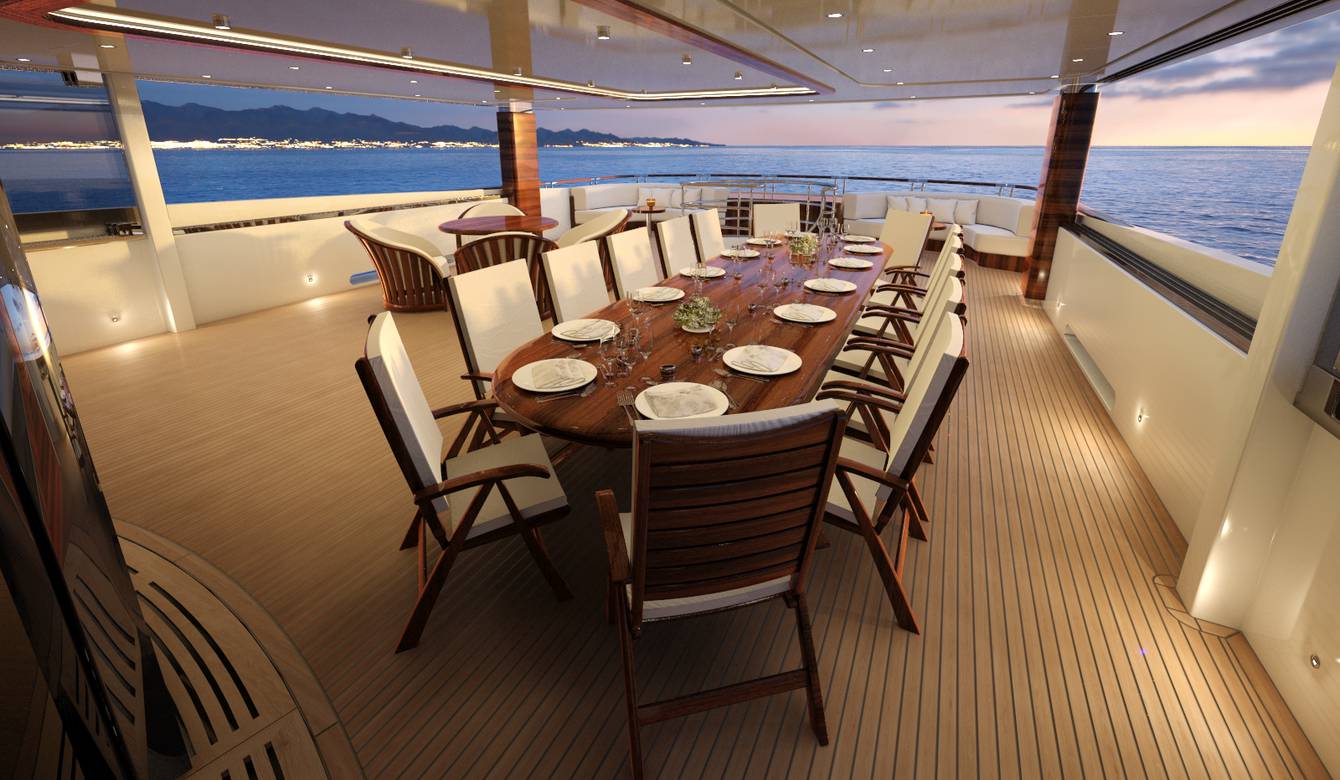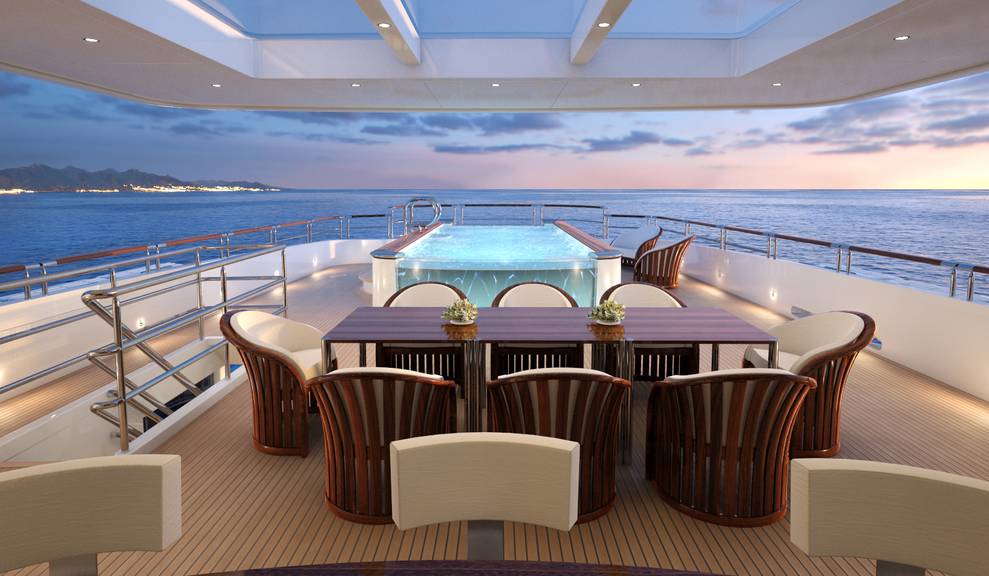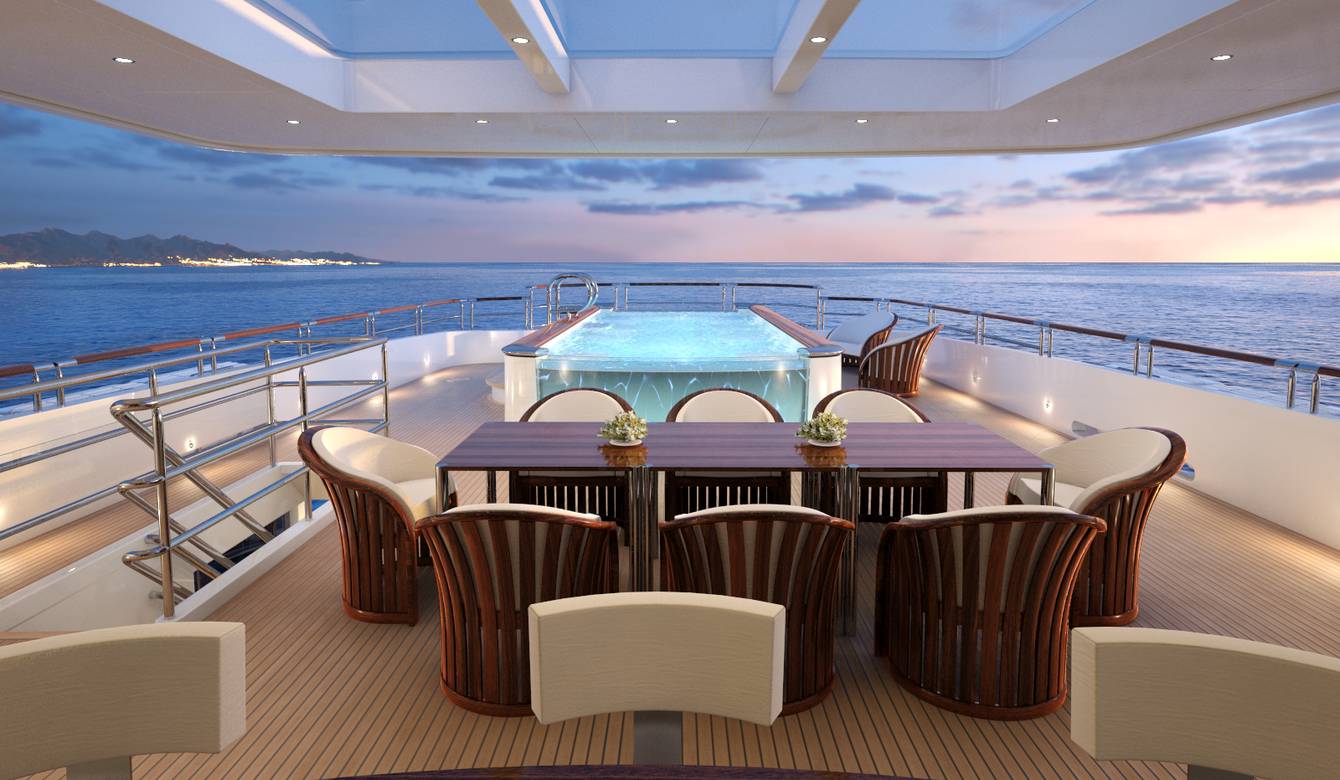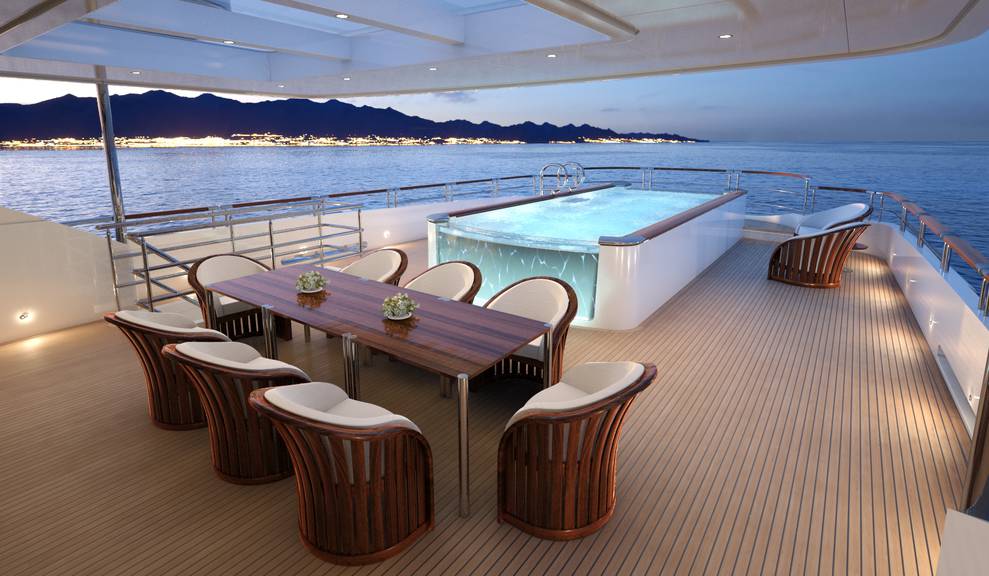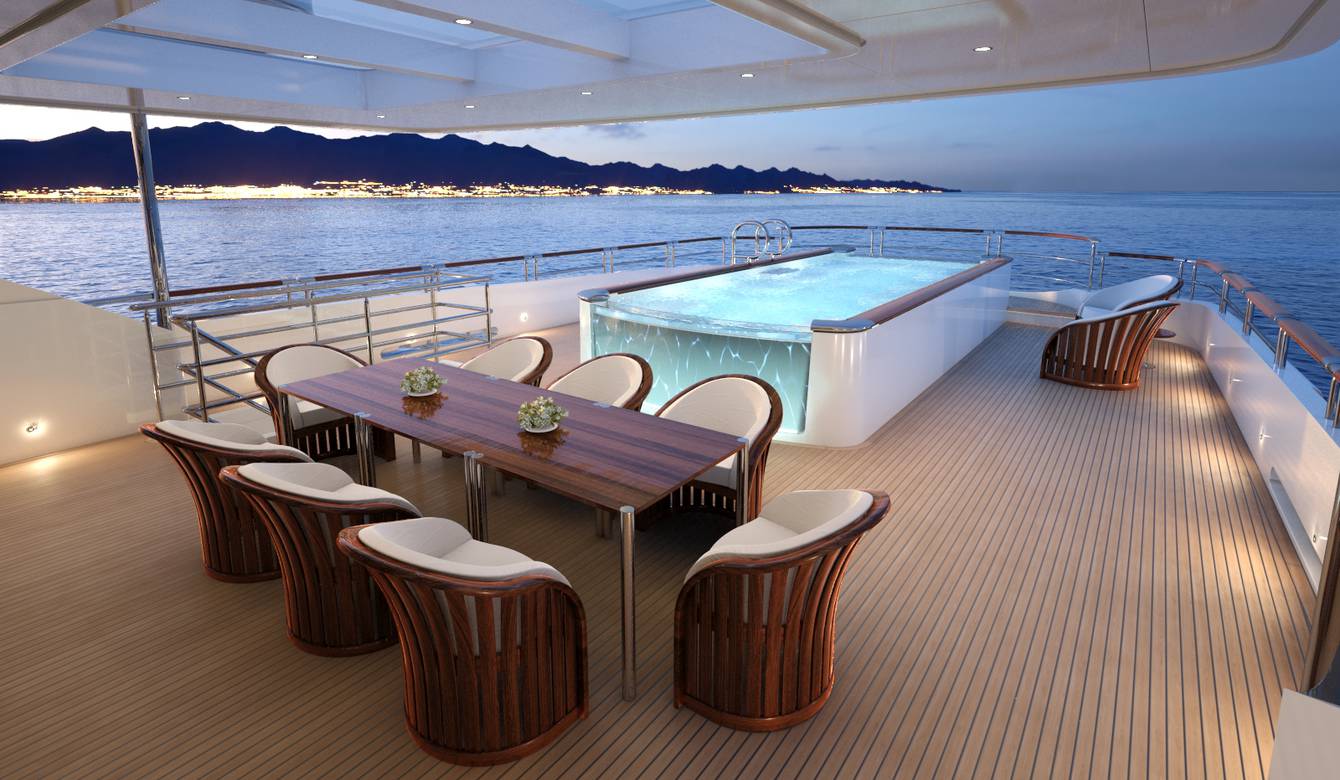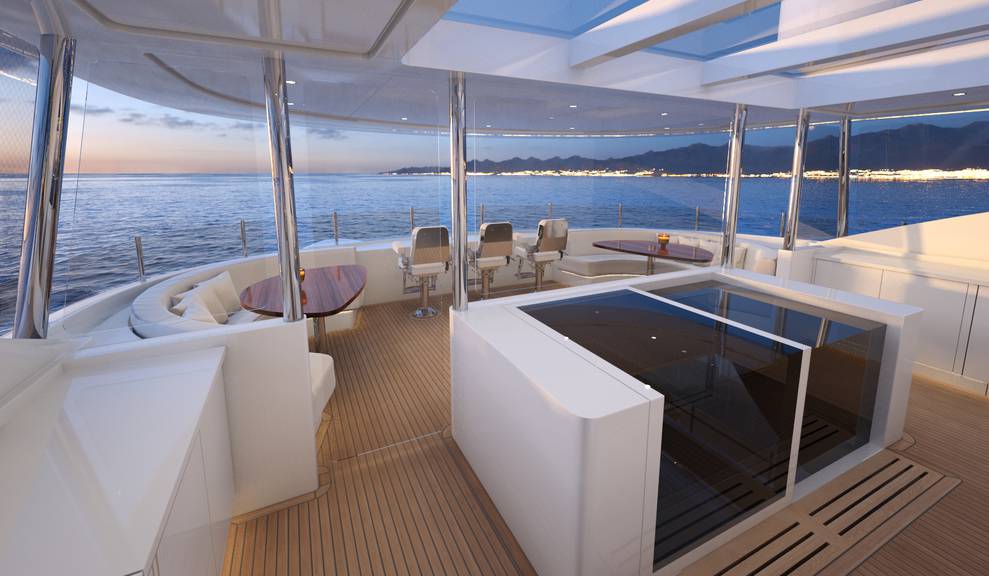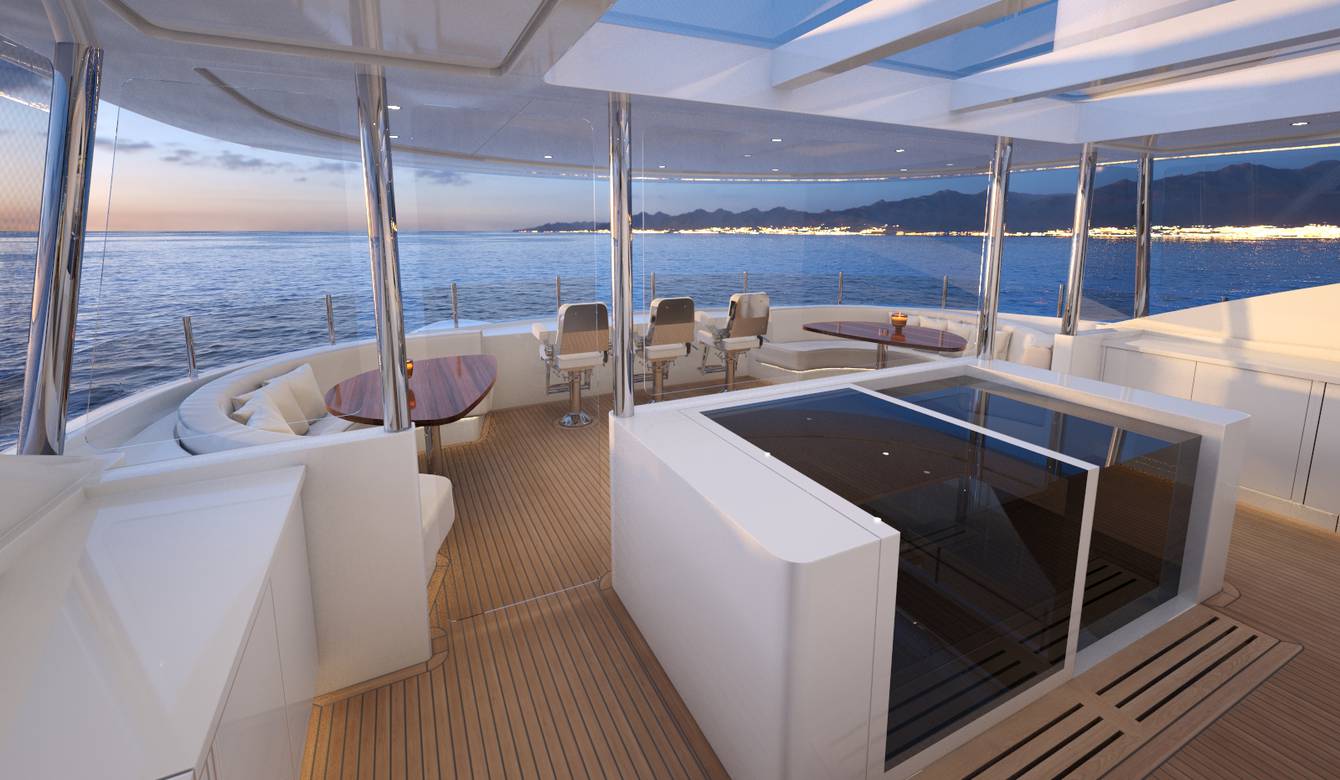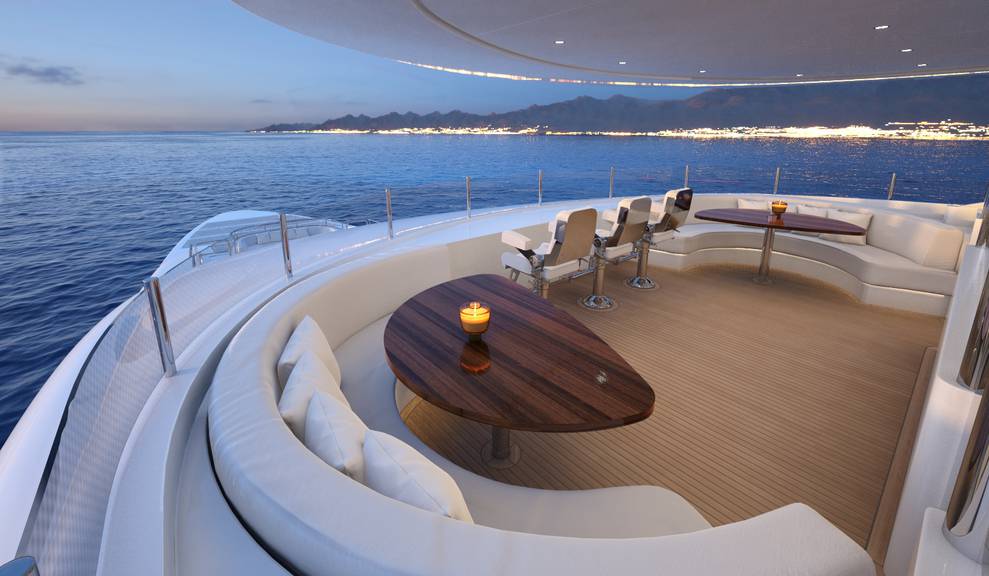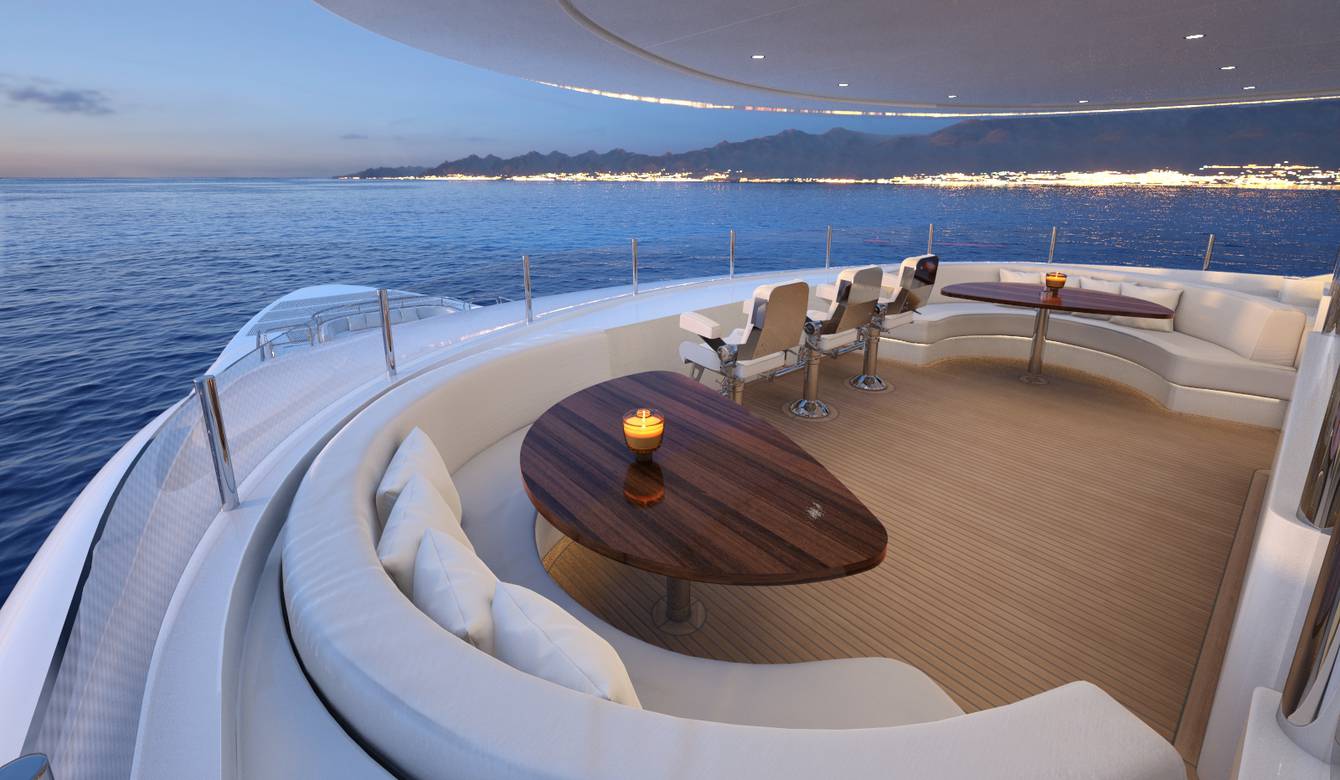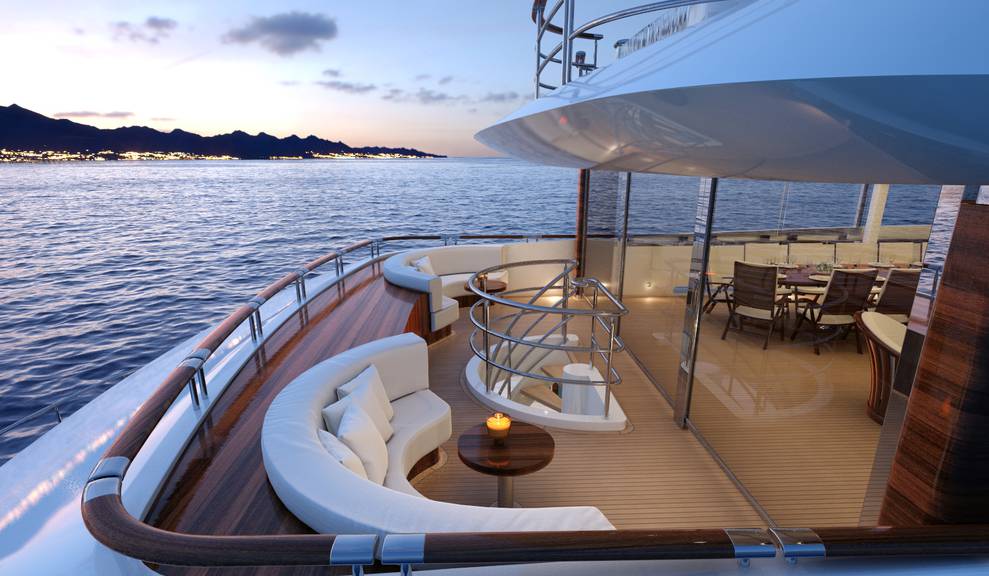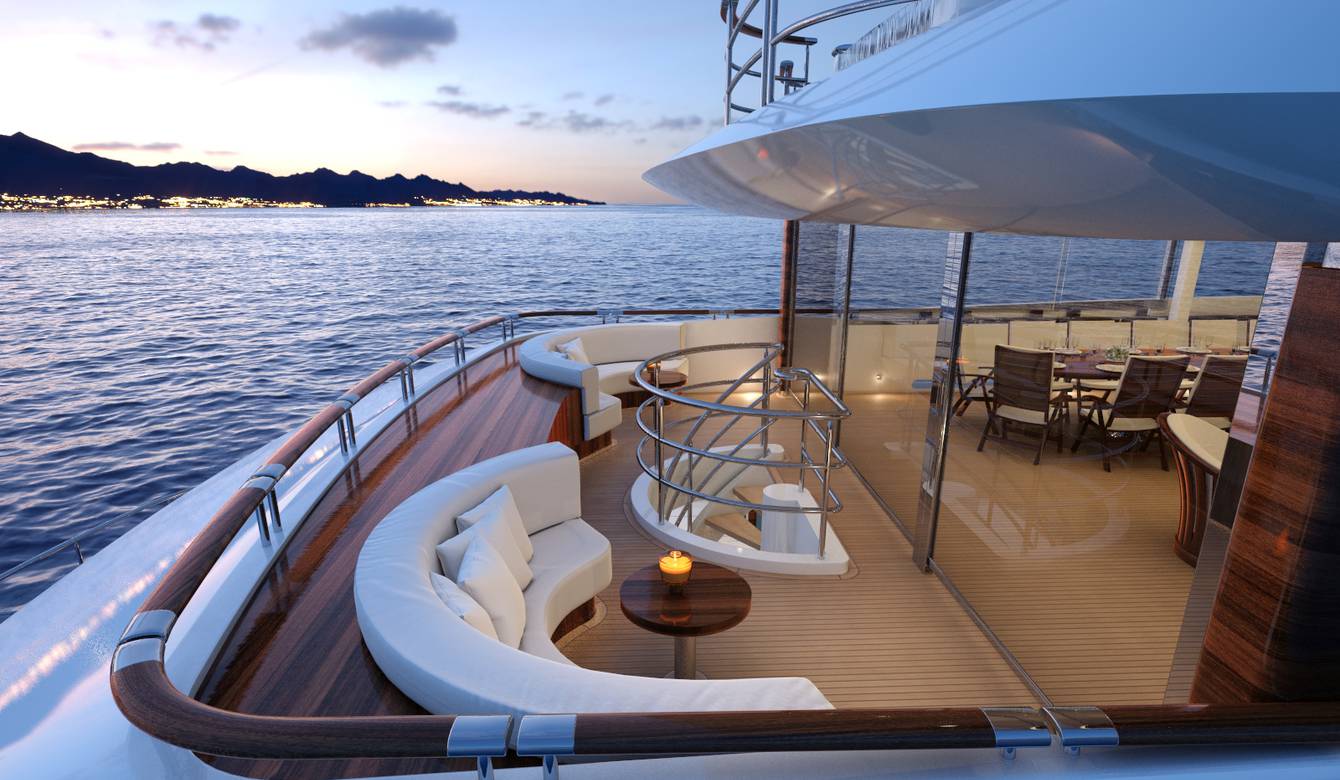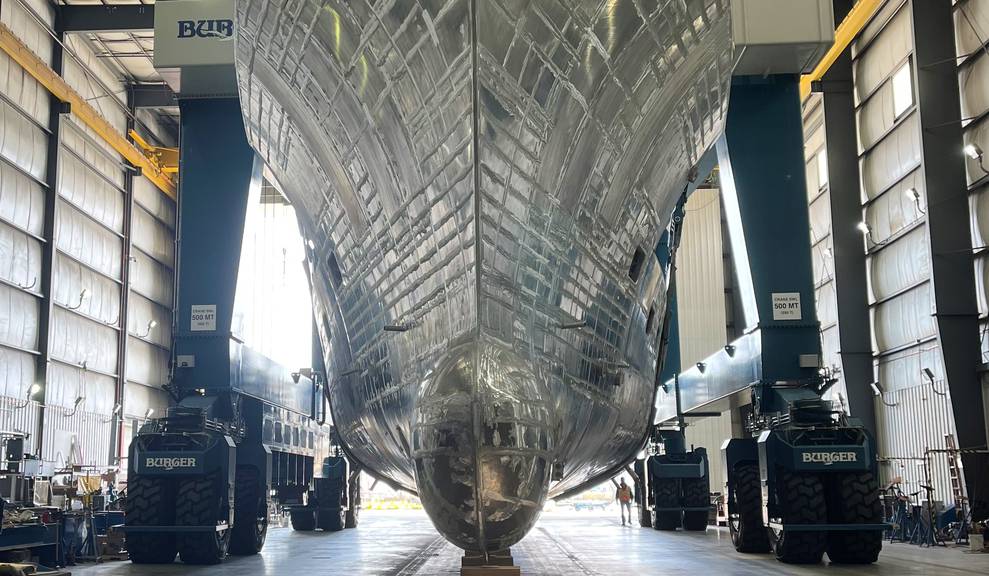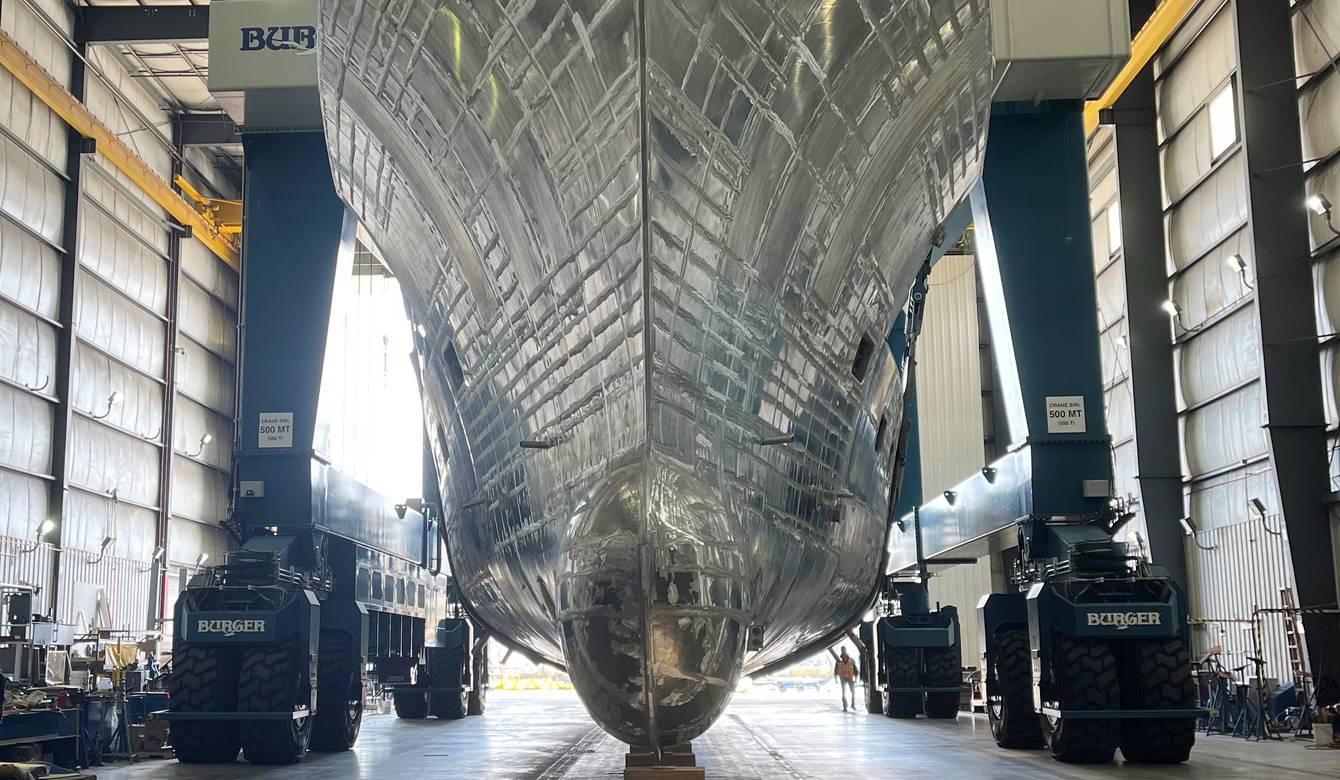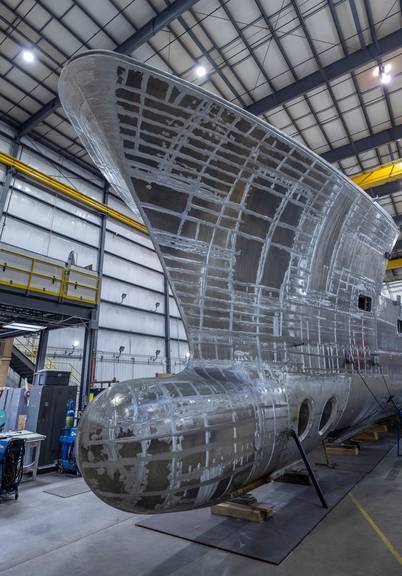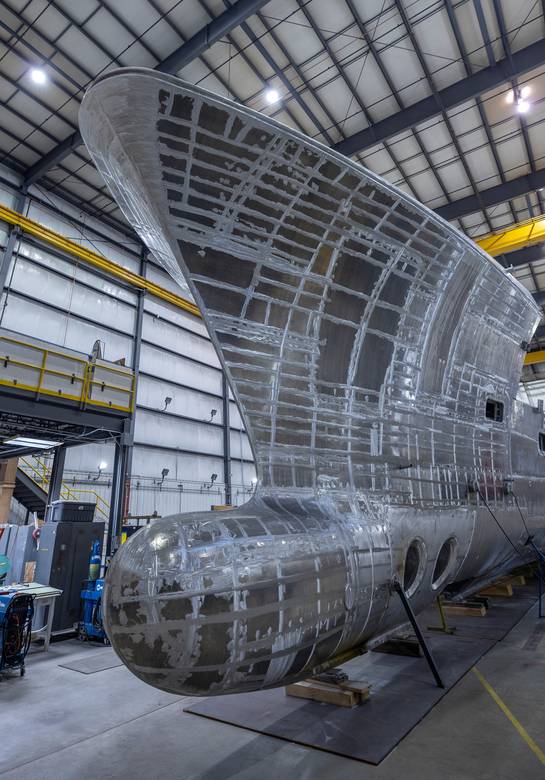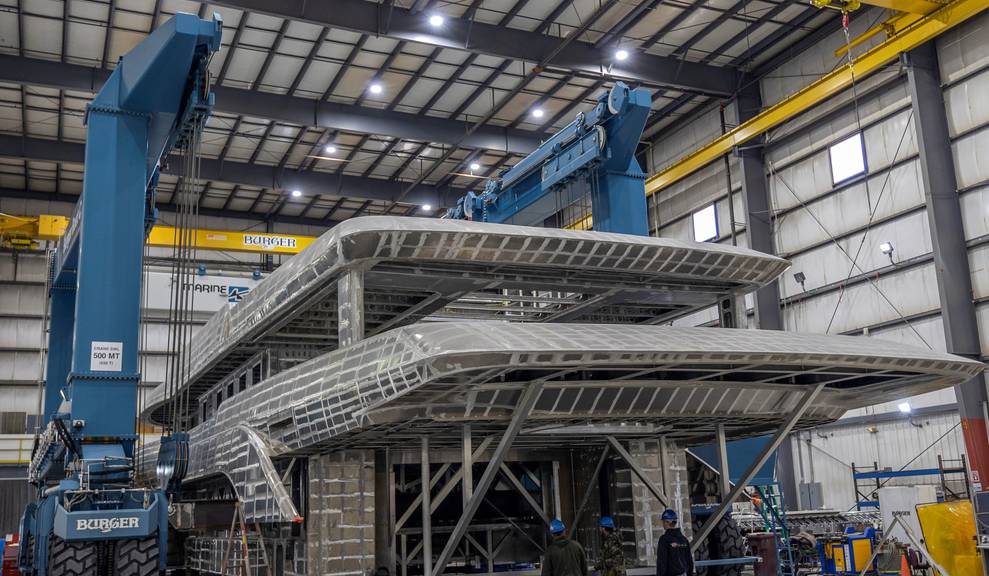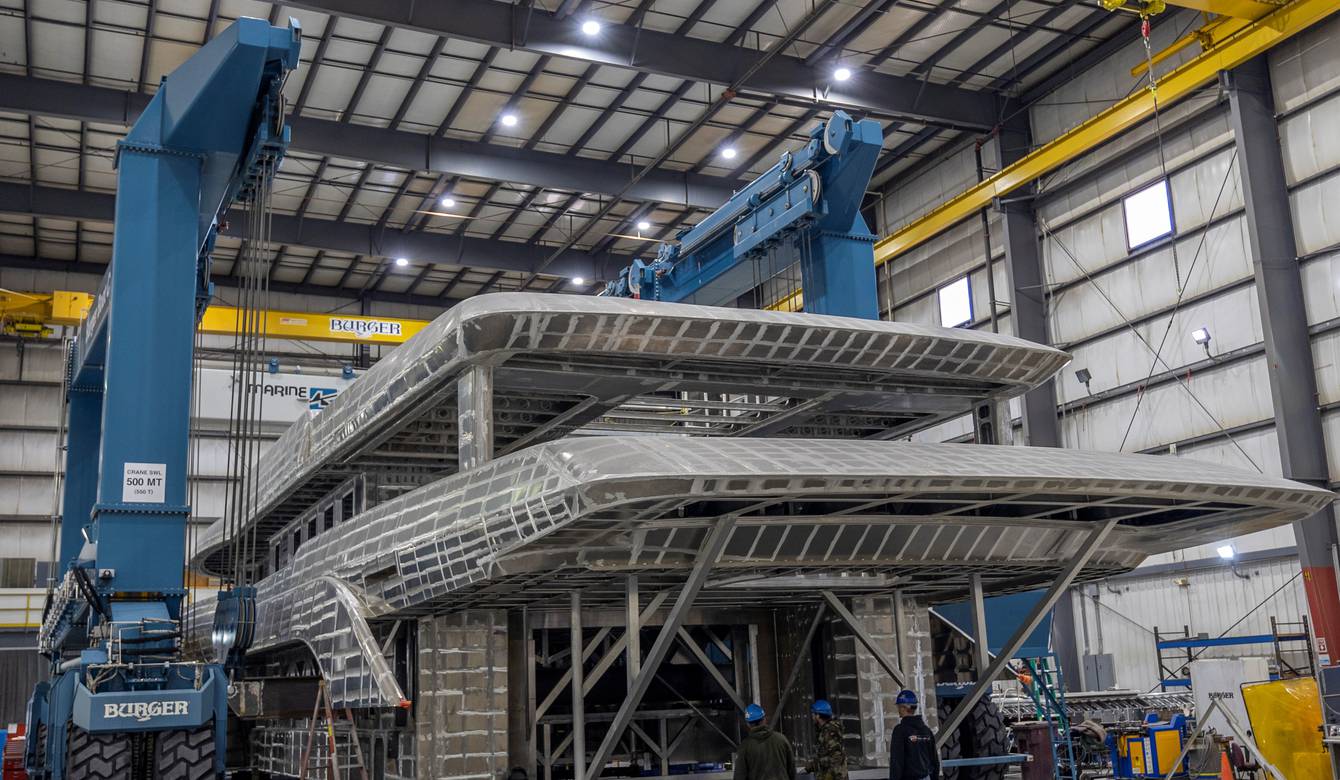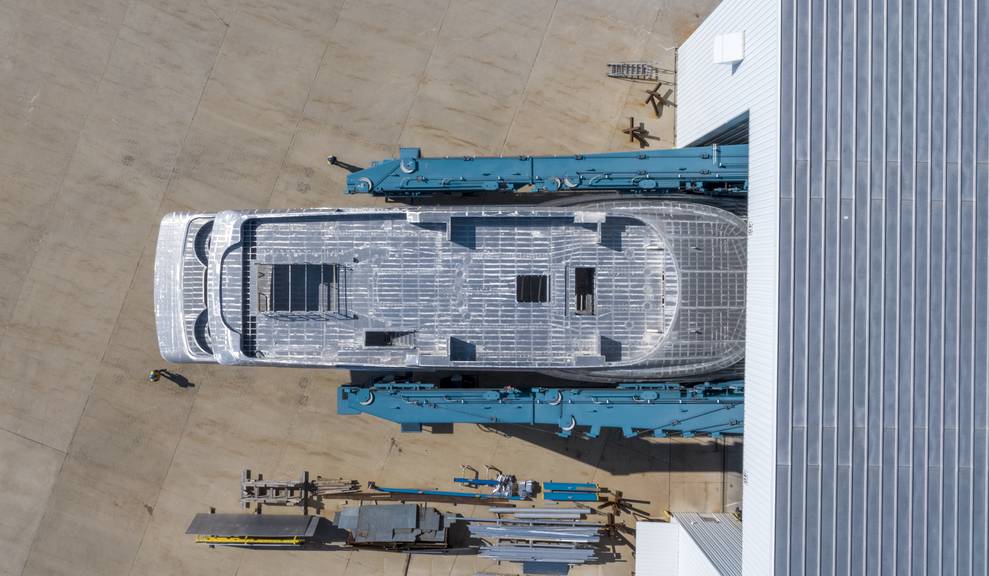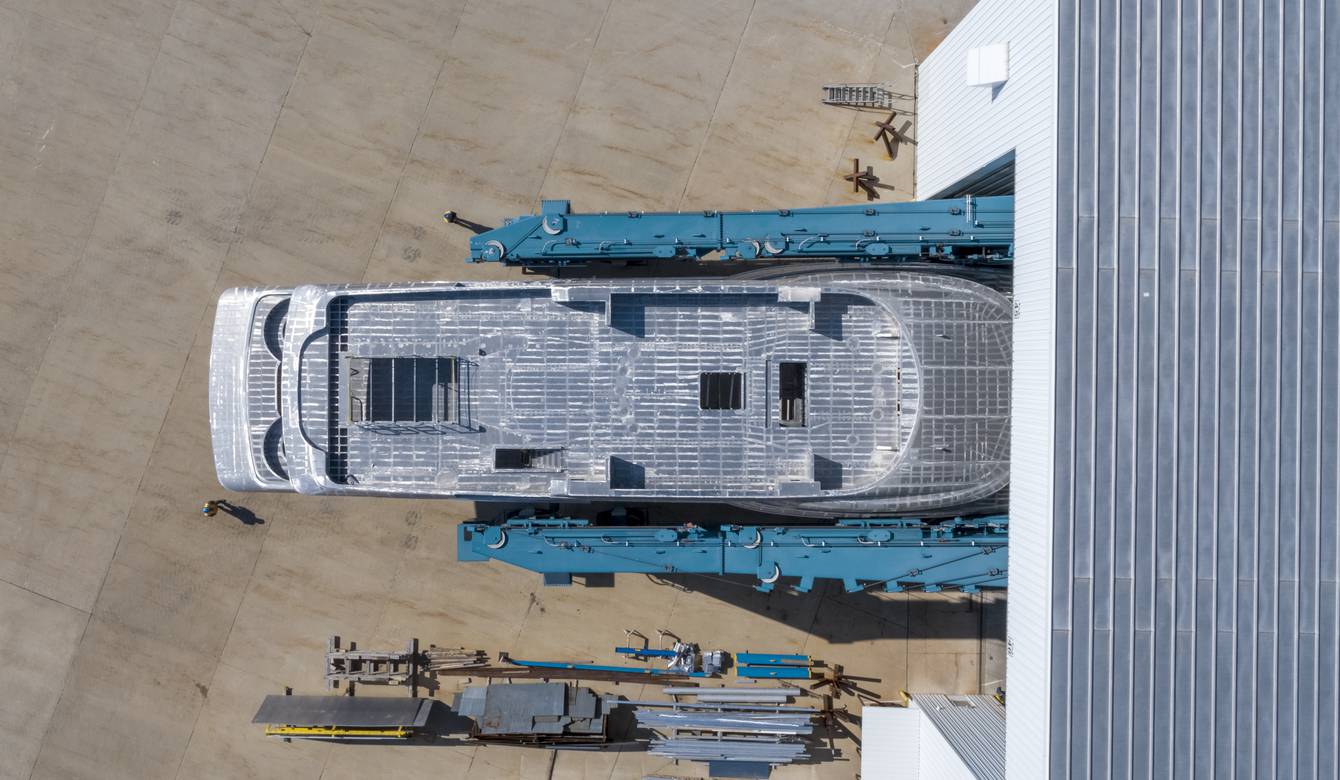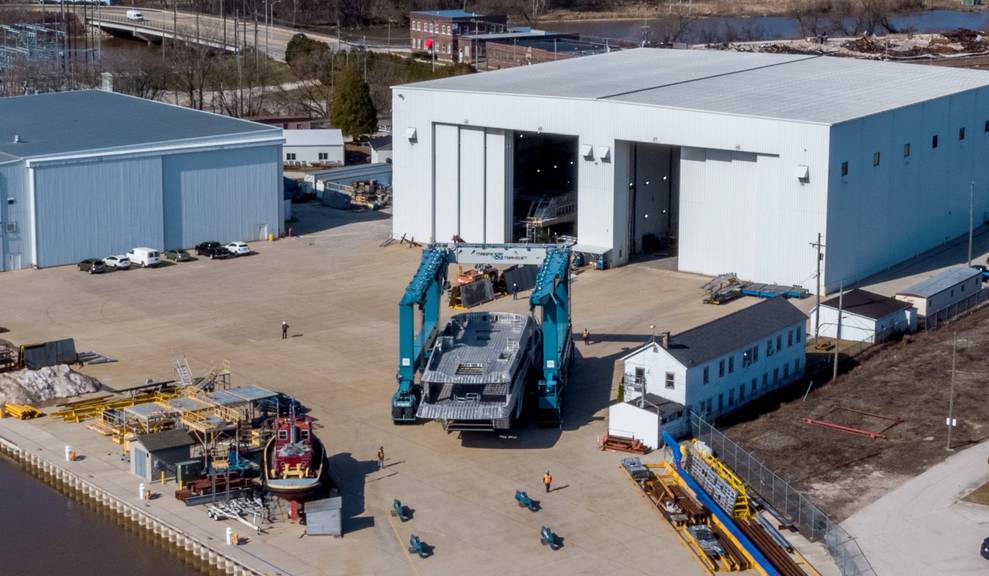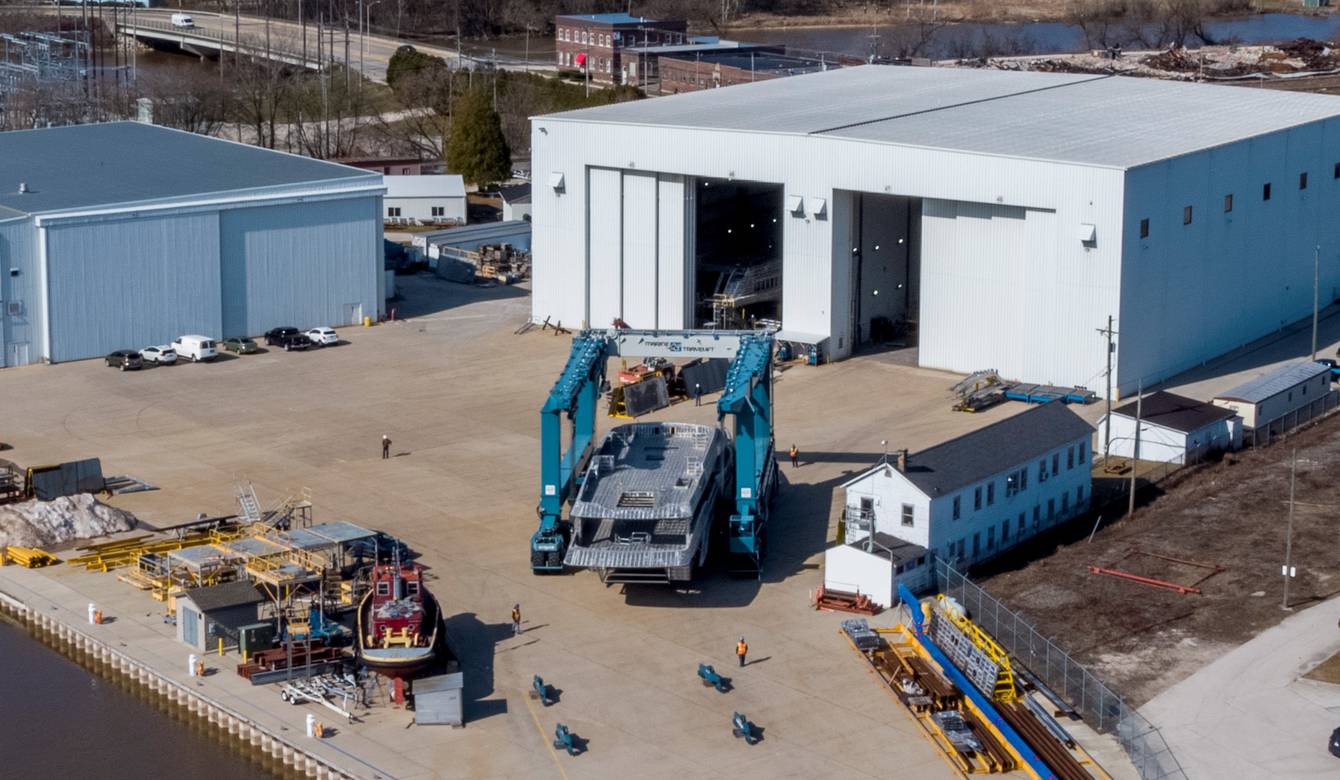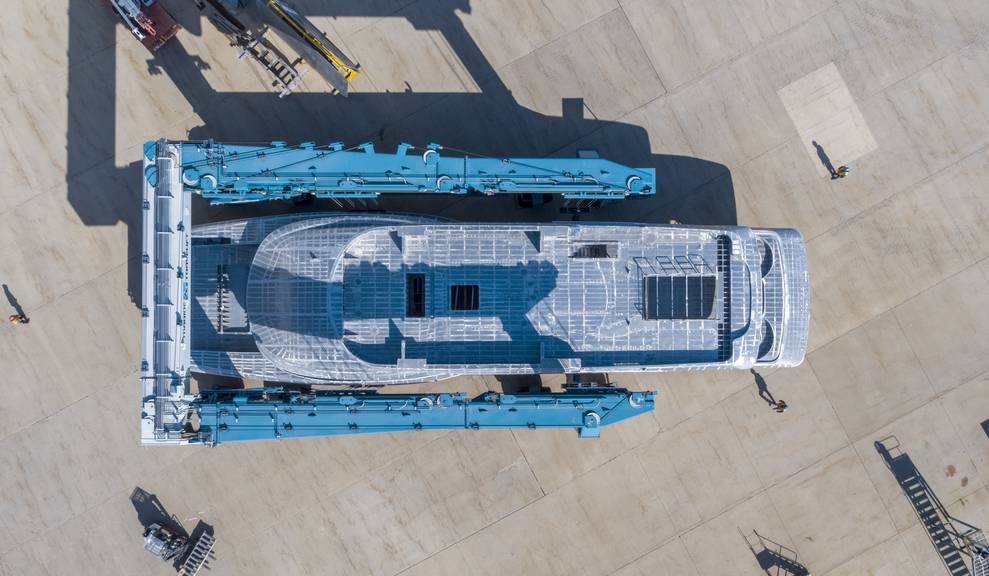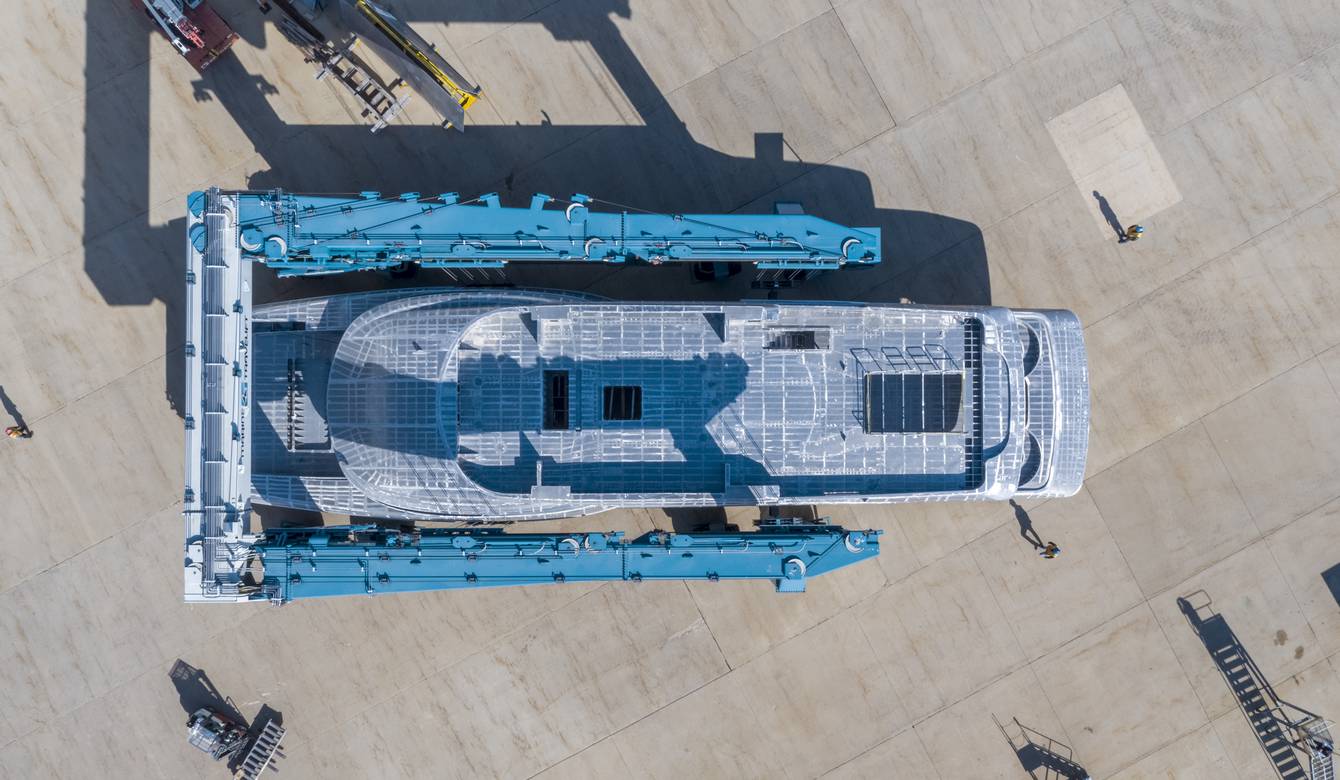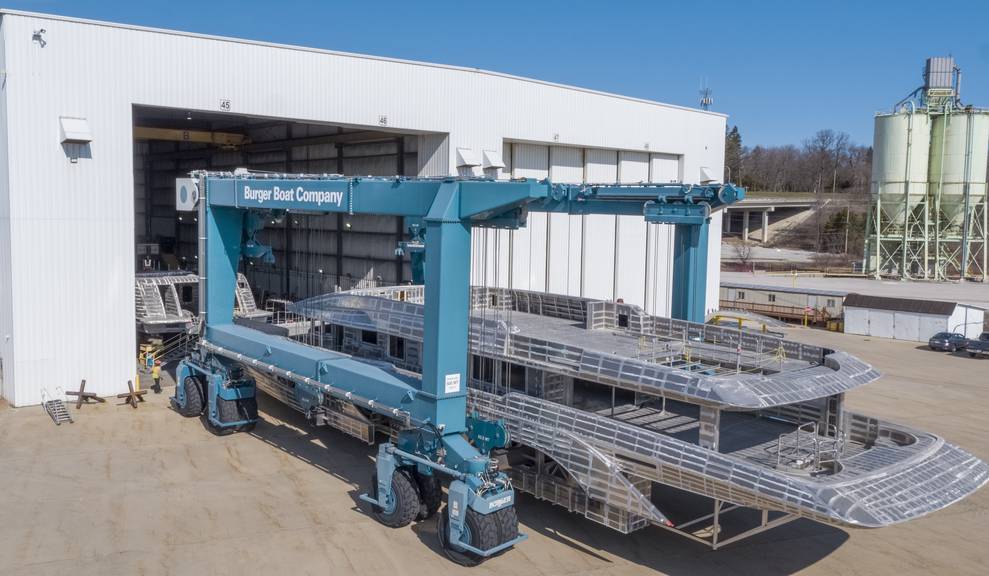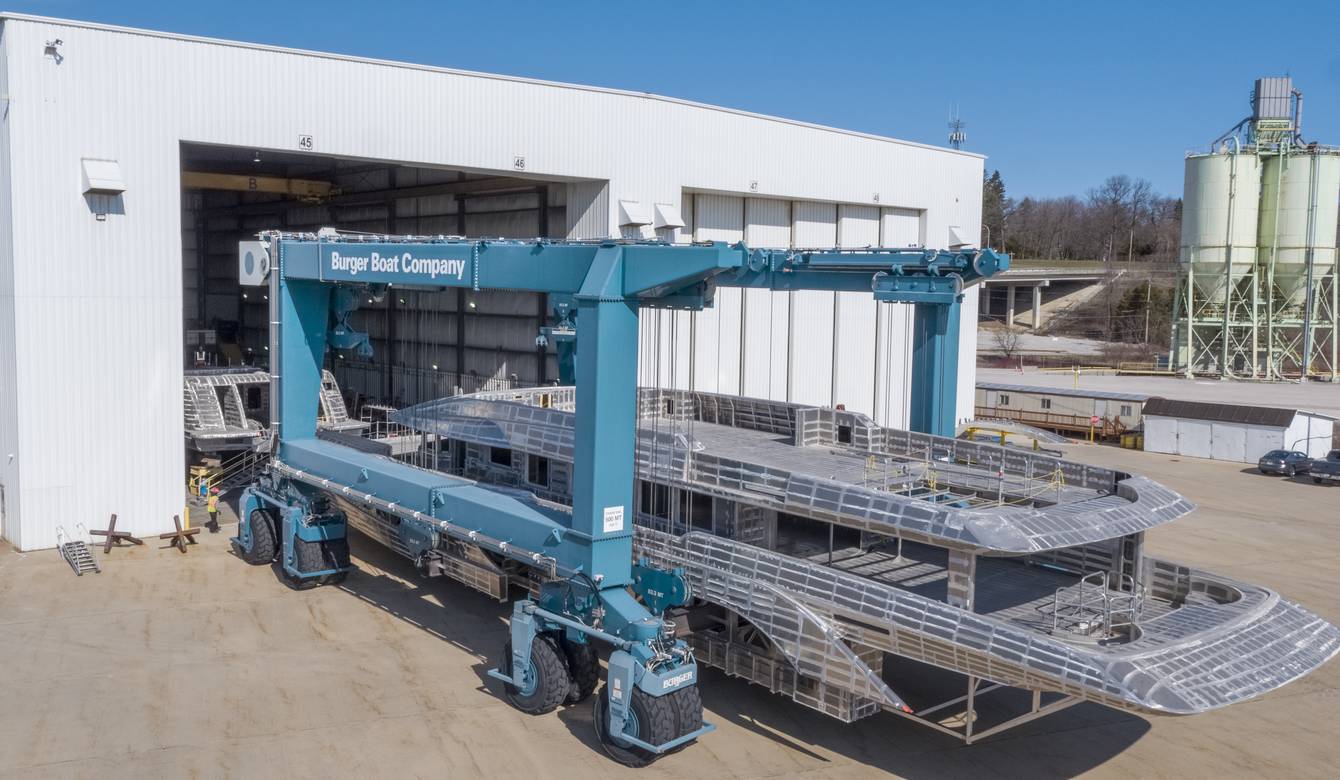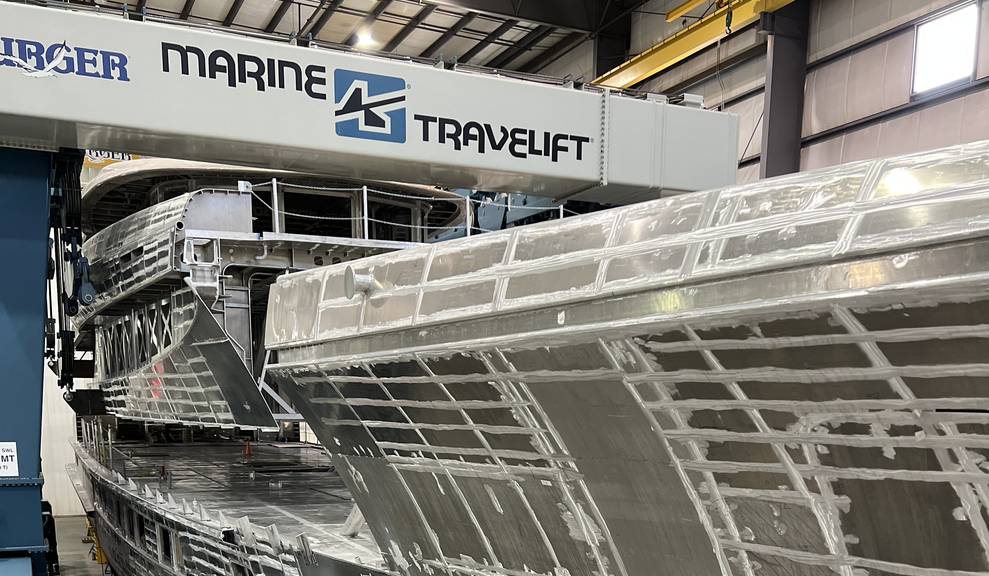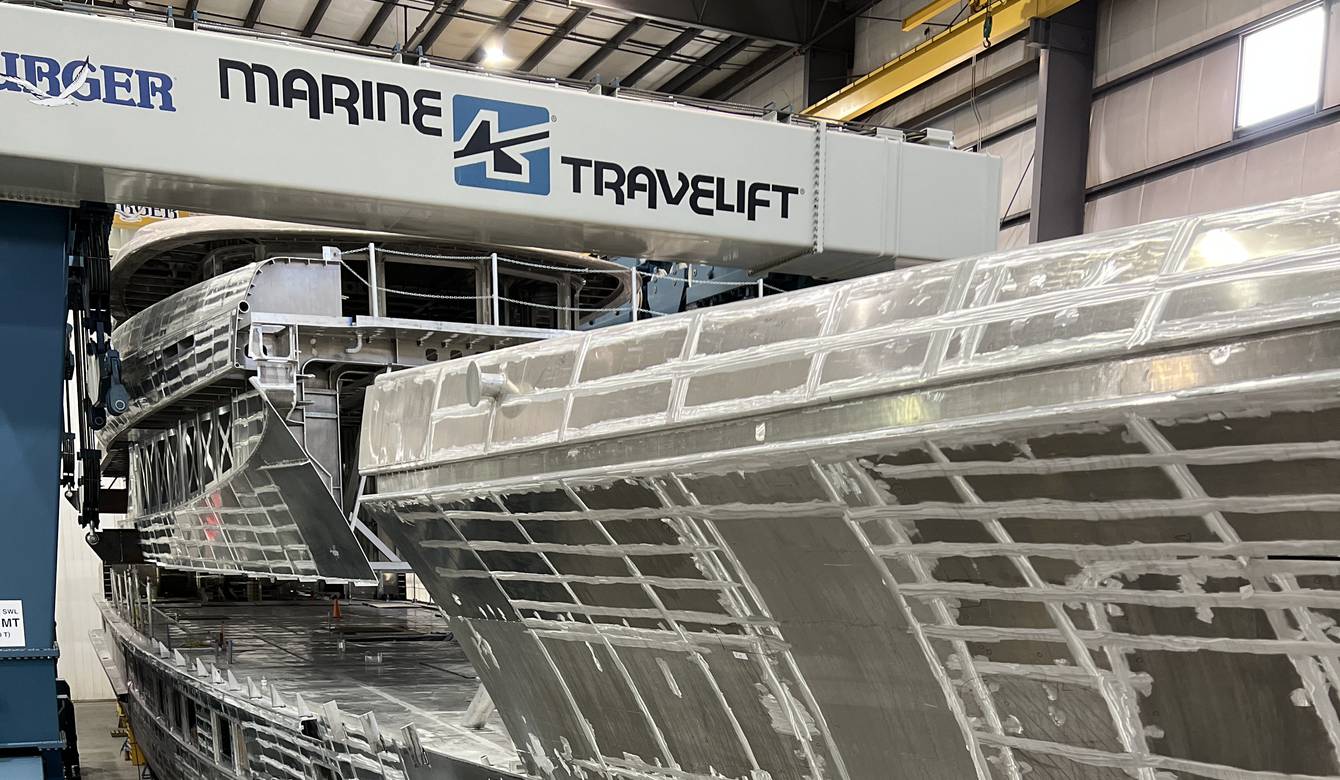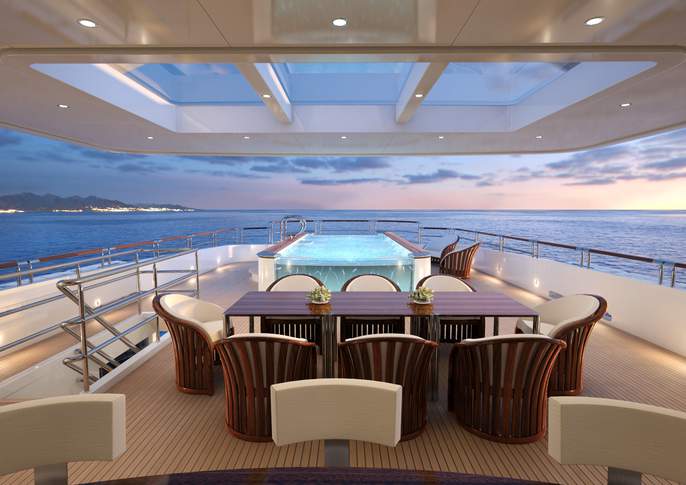 "This yacht was created to offer something extra special to those who wish to live the Limitless lifestyle. With her stunning profile, extraordinary features, and renowned Burger attention to detail, the Burger 180' Motor Yacht is an exceptional yacht, one we are excited to introduce to the world."
Built for Luxury
Stowed in the Tender Bay is the yacht's 37' tender, which is launched and retrieved via a custom Nautical Structures hydraulic "stinger" system. With this system, the tender is safely stowed while underway, thus eliminating the need for towing.
Powered by twin Caterpillar 3512C IMO Tier II engines, the Burger 180' Motor Yacht has a range of 4,000 nautical miles without needing the costly and space-consuming SCR's required for Tier III engines.
Designed with entertainment, technological advances, reliability, and worldwide cruising with family and friends in mind, the Burger 180' Motor Yacht offers many mechanical firsts in yachting. The electrical generation system has been developed to ensure adequate power in all situations. Naiad Dynamics Four Fin, Zero Speed Stabilization System is installed to provide maximum comfort at sea. In addition, the Burger 180' Motor Yacht incorporates Naiad's Total Ride Control® system. This system includes integral Trim Tabs and a hydraulically actuated bow-positioned T-Foil. Working in conjunction, the Trim Tabs and T-Foil significantly reduce vessel pitch while at sea.
The Main Salon is an ideal area for more formal entertaining and dining experiences. Large windows provide a feeling of openness while enjoying time with friends and family.
Forward on the Main Deck is a full beam Owner's Suite with an adjoining private Office. Guest accommodations for up to ten guests in four staterooms, with large windows to bring in natural light and scenic views, are situated on the Lower Deck. These staterooms are easily converted into two sets of family suites.
The Skylounge offers a large bar and entertainment area for relaxation with friends and family and opens to the aft Bridge Deck which is an exceptional area for outdoor dining, entertaining, or relaxation. Forward on the Bridge Deck are the Pilothouse, Yacht's Office, and Captain's Stateroom. For those who wish to take in the action and view the journey while outdoors, a large circular seating area is situated forward of the Pilothouse.
The expansive Sundeck offers many areas for outdoor enjoyment. Central features of the Sundeck are the custom centerline bar and a large pool accommodating up to 12. When desired, the pool can be easily partitioned into a pool and a hot tub simultaneously.
The Sundeck also offers a large area for fresh air workouts utilizing state-of-the-art exercise equipment that is discreetly stowed when not in use. Situated all the way forward are two raised seating areas, one each port and starboard, and three individual, forward-looking chairs providing beautiful vistas of the surroundings.
The professional Galley is designed for the most demanding needs and long-range cruising. It features commercial equipment and includes a large walk-in refrigerator, walk-in freezer, walk-in pantry, and direct access to the Skylounge Service Pantry.
The Crew accommodations are configured for up to 13 and are designed to provide private staterooms for the yacht's Captain, Chief Officer, Chief Engineer, Chief Stewardess, and Chef. In addition, a large lounge and relaxation area, with large windows, is provided for crew comfort.
On the foredeck is the yacht's Touch-and-Go Helicopter pad. Below the foredeck is the Anchor Handling Deck where all anchor handling gear is situated. For ease of anchor deploying and retrieval, port and starboard Anchor Viewing Platforms are installed. This area also provides storage for two personal watercrafts.
Burger's Modular Power Generation System
Introducing the Burger Modular Power Generation System, a game-changing advancement installed aboard the Burger 180 Motor Yacht. This innovative system ushers in a new era of yacht power generation, seamlessly blending cutting-edge technology with a solid commitment to the environment. This exceptional solution is set to transform onboard energy production, utilizing nine compact 40kW Kohler generators to establish an unmatched standard in performance, sustainability, and reliability.
Bid farewell to energy waste and operational inefficiencies. At the core of this system lies intelligent energy management, perfectly attuned to your yacht's changing energy needs. The system optimizes power generation through real-time adjustments, whether you're on a peaceful voyage or hosting grand events. The precisely engineered 40kW increments ensure efficient power production that aligns with actual demands.
Embracing the modular approach means embracing sustainable yachting. This approach significantly reduces fuel consumption and greenhouse gas emissions, a noteworthy stride towards preserving the marine ecosystems that hold a special place in your yacht's journey.
This system also eliminates the need for wasteful load banks. Every unit of generated power serves a purpose, leaving no room for unnecessary energy dissipation. This meticulous design approach leads to tangible cost savings and a minimal ecological footprint, propelling your limitless journey with purpose.
Embark with confidence, knowing that the Burger Modular Power Generation System provides unparalleled backup. With multiple backup units, your voyage is built on a foundation of intrinsic redundancy. This core feature ensures steadfast reliability for extended explorations and serene cruising, adding a sense of tranquility to every adventure.
This modular approach isn't just a solution; it's an investment in your yachting future. As your vessel evolves, the technology seamlessly evolves along with it. With versatile capabilities, you have the ability to integrate new luxuries and groundbreaking technologies, propelling your superyacht to the forefront of innovation.
Elevate your journey with the Burger Modular Power Generation System. This choice embodies elegance, sustainability, and performance. Set your course towards the forefront of superyacht power, embracing a future that shines with responsible stewardship.
Redefine Your Limitless Horizon, Embrace the Dawn of Power's Future!
Specifications
LOA: 180' 00" (54.86m)
Beam (Maximum): 32' 08" (9.98m) Over the wing stations
Beam (Over Guards): 30'07" (9.31m)
Draft (Full Load): 7' 10" (2.39m)
Draft (Half Load): 7'-06" (2.31m)
Half Load Displacement: 433 LT (440 MT)
Usable Gross Tonnage: 720 GT ITC
Admeasured Gross Tonnage: 499 GT ITC
Main Engines: Caterpillar 3512C IMO Tier II developing 2,366 BHP
Generators: Burger's Modular Power Generation System
Recommended Cruise Speed: 14 knots (Approx.)
Long Range Cruise: 11 knots
Range at Long Range Cruise: 4,000 NM @ 11 knots
Fuel Capacity: 21,140 U.S. Gal. (76,235 l)
Fresh Water: 3,075 U.S. Gal. (11,640 l)
Tech Water Capacity: 3,070 U.S. Gal. (11,625 l)
Clean Oil Capacity: 355 U.S. Gal. (1,350 l)
Waste Oil Capacity: 415 U.S. Gal. (1,575 l)
Black Water Holding Capacity: 1,075 U.S. Gal. (4,070 l)
Grey Water Holding Capacity: 3,050 U.S. Gal. (11,550 l)
Exterior Deck Area: 4,680 sq ft (435 m²)
Interior Area: 4,875 sq ft (453 m²)
Naval Architects: Burger Design Team/Gregory C. Marshall Naval Architects
CFD/Wake Adaptive Running Gear Analysis: Maritime Research Associates
Tank Testing: Wolfson Unit - Extensive Seakeeping and Resistance Testing