Design
The first step in delivering the yacht of your dreams is to share your vision with the Burger design team and engineering staff. Our in-depth design brief helps define your priorities for a yacht. We recommend touring the Burger shipyard where you can meet our exceptional team, learn how your yacht will be constructed and to witness the true value of Burger's experience and craftsmanship.
After defining your vision, your dreams will begin to take shape in dramatic conceptual designs, renderings and cost estimates, presented for your direction and approval before moving forward.
Conceptual designs and renderings include:
Hull designs
Exterior styling and interior floor plans
Interior elevation renderings
Engines, propulsion and electric generation equipment selection
Special requirements, including recreational and/or shore tenders and storage options
Navigation electronics and entertainment system descriptions
Build
Once you've approved the design, Burger will prepare a detailed design and specification breakdown with descriptions of every step in your yacht's construction; from its development milestones to key points of approval. With a finalized and signed contract, your yacht is on the way to fruition. Each step of the build is documented before work begins, with a detailed timeline that describes each step of the process, so that you remain involved and aware of our progress, every step of the way.
Launch
Months of careful planning and construction culminate when it's time to launch your new Burger yacht. Along with the Burger team, you and/or your captain take your new Burger yacht through various sea trials, including at-sea observations and detailed walk-through inspections. At this stage, final modifications and refinements are made.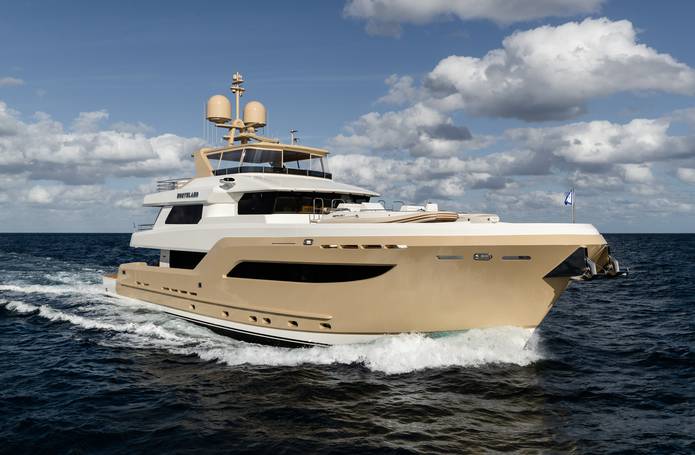 Explore
Congratulations; owning a Burger built for you also means you've joined the most exclusive fleet of yachts in the world. Our craftsmen share your pride in seeing your new yacht launched, and value each customer relationship that endures long after delivery. Bringing your dreams to reality is what makes every Burger yacht unique and extraordinary.
With your Burger set out into open waters, a new journey begins.
Custom Yachts
View Burger's full fleet of custom yachts, uniquely crafted to each owner's vision of limitless luxury.
Design Concepts
Explore Burger's newest design concepts and yachts under construction — and bring your ideas to their design.