BURGER 142' ATRIUM
Boat Company is pleased to introduce the stunning Burger 142 Atrium Motor Yacht, a new collaboration with world-renowned Yacht Designer Evan K. Marshall.
The Burger 142 Atrium Motor Yacht is the culmination of Burger's history of dedication, innovation, and unwavering commitment to craft, blending timeless elegance with modern features. Evan Marshall and his team bring their expertise to this collaboration, ensuring that every detail of the vessel exudes opulence and sophistication, all while providing her owner and guests an exceptional feeling of being close to the sea.
The inspiration behind the design of the Burger 142 Atrium Motor Yacht was to establish an extraordinary centerpiece within the yacht's interior. With the Atrium, Marshall has successfully crafted a multi-story grand entrance that has never been seen on a yacht of this size. This distinctive feature will captivate the owner and their guests as they navigate from the lower Guest Stateroom area to the Sky Lounge, creating a one-of-a-kind focal point at the center of the Burger 142 Atrium Motor Yacht.
The Burger 142 Atrium Motor Yacht boasts spacious and well-appointed accommodations for up to twelve, including a full-beam master suite and five en-suite guest staterooms, all providing abundant natural light and extraordinary views.
Specifications
*Preliminary
Length Overall - 142'-00"
Length at Waterline - 127'-04"
Beam (max) - 28'-00"
Draft - 7'-00" (Approximately)
Construction - Aluminum
Fuel Capacity - Approximately 10,000 US Gallons
Fresh Water Capacity - Approximately 1,350 US Gallons
Interior Designer - Evan K. Marshall
Exterior Stylist - Evan K. Marshall
Gross Tonnage - Approximately 475 GT ITC
Classification - ABS/MCA
Dimensions, weight, performance, and capacities are approximate. Please consult Burger Boat Company for complete details.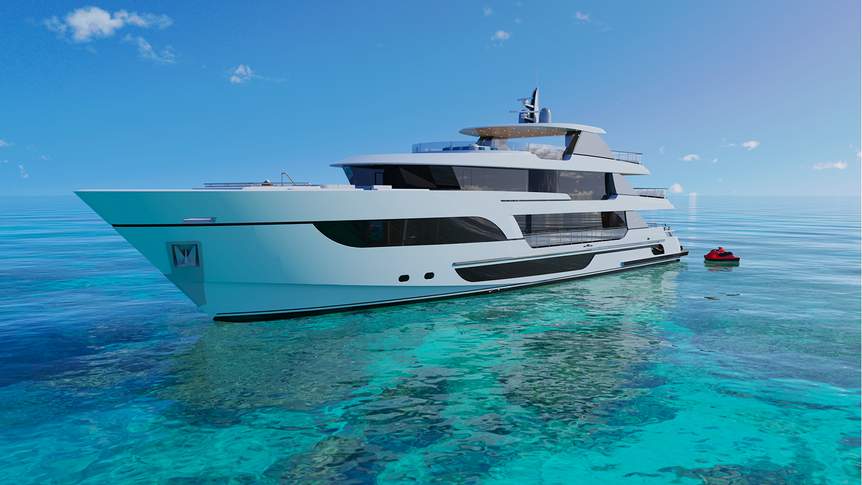 We are excited to collaborate with Evan K. Marshall on this project. The Burger 142 Atrium Motor Yacht sets new standards in the industry, and we look forward to delivering an exceptional experience to our clients.
The yachting industry is set to be captivated by the recent collaboration between Burger Boat Company and the legendary yacht designer Evan K Marshall, who is recognized worldwide for exceptional creations. Together, they are proud to unveil the magnificent Burger 142 Atrium Motor Yacht, a vessel that combines impeccable design and cutting-edge technology in a stunning 142-foot masterpiece.
As beach clubs have gained popularity and demand, Burger and Evan K Marshall have ingeniously reimagined this trend. Taking further steps toward blending the yacht with its surroundings, the team's approach created an Infinity Deck that combines an open platform that seamlessly connects to the sea for relaxation and water sports. It also directly links to an interior space dedicated to spa and exercise activities. Cutting-edge technology ensures a smooth and efficient cruising experience. From the navigation systems to the onboard entertainment, every aspect has been carefully designed for convenience, enjoyment, and reliability.
Clients have the opportunity to personalize their Burger 142 Atrium Motor Yacht, working closely with the Burger team and Evan K. Marshall to create a yacht that matches their unique preferences and lifestyles.
Evan K. Marshall, speaking about the collaboration, said, "Working with Burger Boat Company on the Burger 142 Atrium Motor Yacht has been an extraordinary experience. This yacht embodies the best of design and craftsmanship, and I'm thrilled to see our vision come to life."
The Burger 142 Atrium Motor Yacht is poised to become a coveted asset for yacht enthusiasts seeking an exceptional combination of luxury, craftsmanship, reliability, and performance. It is a testament to the enduring commitment to excellence by Burger Boat Company and the legacy of Evan K. Marshall.